View the Chivas 0-2 Xolos highlights here.
The Chivas vs Xolos Tijuana match will be this Sunday, November 11, 2012 (6:00 PM EDT) at the Estadio Omnilife.  With the results of other Liga MX games on Saturday, Chivas secured a place in the playoffs (well, this is unless Pumas or Atlante win by 6 goals and Chivas loses).  This is outstanding considering the way Guadalajara began the season, therefore they will be relaxed once the game against Club Tijuana begins.  On the other hand, Xolos is in a complicated place because the results from the Leon and America games means Xolos is forced to at least get a point to qualify into the Copa Libertadores 2013.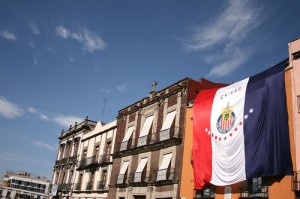 Chivas obtained their pass into the playoffs which a couple weeks back seem outright impossible.  Of their last six games, Guadalajara won four, and this allowed them to surpass teams like Monterrey, Tigres, Santos, or Pumas in points.  In case Chivas were to lose or tie against Xolos, they will end in 7th place of the standings; a victory moves them one place to 6th. If Tijuana wins, these two teams will meet once again in the first round of the playoffs
Xolos of Tijuana has not lost in a prestigious fourteen games, however, they have lost four straight opportunities to qualify to the Libertadores (tied their past four matches).  The team lead by Antonio Mohamed is currently in 4th place with 31 points, and to go to Libertadores they need a tie against Chivas.  Considering their past fourteen results, this does not seem like a difficult task, but this is a team that has played worse in the past couple of weeks.  But Tijuana has demonstrated of being an elite team this season, and if Toluca ties and Xolos wins, then Xolos will end the season as the top team in the Liga MX.
Prediction: The Chivas vs Xolos Tijuana can be considered the game of the week due to the millions of fans who anticipate Chivas returning to the playoffs.  Chivas is already in the playoffs with a mere 23 points; therefore they will not have as much pressure to win as they had anticipated.  Xolos on the other hand requires a victory to be in the Copa Libertadores, while a tie puts them in 3rd place of the standings and a wild-card seat to the South American tournament.  There will be an exciting atmosphere at the Omnilife, and fans will cheer endless for Chivas to win, but Xolos Tijuana will be no easy task.  The final score will be 1-1.
Television:  The Chivas vs Xolos Tijuana game will be this Sunday, November 11, 2012 at 6:00 PM EDT, and will be shown on Telemundo.
View the Chivas 0-2 Xolos highlights here.