View the Leon 3-1 Atlas highlights here.
History could be made on the Leon vs Atlas match this Friday, November 9, 2012 (10:30 PM EDT) at the Estadio Leon.  The Liga MX's new squad, Leon, has already obtained a pass into the postseason, but on Friday night they could get much more.  With a win, Leon will end the season in the top three positions of the standings and this will grant them a pass into the most prestigious tournament in Latin America; the Copa Libertadores 2013.  On the other hand, Club Atlas is terrible in all aspects of the game, and on Friday they will only play for their pride and to not fall deeper into the relegation battle.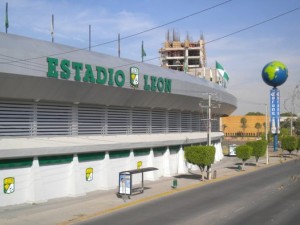 The 'panzas verdes' have played solidly all season long, with an extraordinary offense that has been the strongest of the league with 31 goals.  Leon plays Atlas in front of its fans in the last week of the season; at home they have been strong by only losing two matches and winning the rest.  This is partly due to the great support and atmosphere created by their fans which are one of Mexico's best.  In case Leon were to tie or lose, they will depend on America also tying or losing in order to reach the Copa Libertadores.  Another scenario that would see them not reaching the South American tournament would be if they win but America also wins and obtains a larger goal difference margin.
Club Atlas has been a disaster throughout the Apertura 2012 of the Liga MX by only gathering 12 points even as their squad is fairly strong and talented.  They travel to Leon which is one of the most difficult stadiums to obtain a positive result.  Atlas is out of any possibility of reaching the playoffs, but on Friday night they play for the little pride that is left on them and to distance themselves from Queretaro in the relegation fight.  Atlas is on the highest point of disappointment, and grabbing a victory in Leon seems rightly impossible at this point.
Prediction:  The Leon vs Atlas match will be a one-sided game where the home team plays for the pass to the Copa Libertadores.  Leon comes into the game with a lot of confidence and a good streak, therefore, they should not have trouble in obtaining the three points.  At the end, their good season will play off and they will obtain the ticket to Libertadores after they defeat Atlas 3-0.
Television:  The Leon vs Atlas game will be played and seen this Friday, November 9, 2012 at 10:30 PM EDT through Mun2.
View the Leon 3-1 Atlas highlights here.