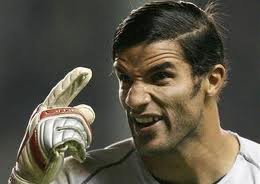 OSWEET QUINIELA RESULTS
LigaMX, Jornada 16, A2012
On left is your score, in parentheses is your number of correct picks. The scoring system gives varying points for each correct pick, based on game odds, and is designed to make the average score 100. So getting a score more than 100 means you did well. A perfect (9/9) would've got 284 points.Included are picks from the experts at ESPN's Futbol Picante.
RESULTS
Chiapas 3-0 Pumas
Santos 2-1 CruzAzul
America 4-0 Pachuca
Queretaro 0-1 Chivas
Monterrey 0-1 Tigres
Tijuana 0-0 San Luis
Toluca 0-0 Morelia
Atlas 2-2 Puebla
Atlante 2-3 Leon
EXACTS
QTO 0-1 CVS–ElJoker
2-4 November
2012
SCORES:
169 – KevinTorres (6/9)
169 – SopaHMCS (6/9)
157 – ElJoker (6/9)
153 – Jefesito (5/9)
145 – GeorgeGuevara (4/9)
141 – HectorTorres (5/9)
129 – ChavaYAreli (5/9)
128 – Aguilucho (4/9)
128 – Mac (4/9)
118 – Diablito10 (5/9)
112 – Nacho (4/9)
112 – Rafa (4/9)
108 – Martha (4/9)
99 – Hector (4/9)
90 – MauricioRobles (4/9)
90 – Geo (4/9)
82 – Felipe (3/9)
77 – Adriana (3/9)
63 – AmericanistaJC (2/9)
61 – Angel (2/9)
44 – Beto (2/9)
44 – Ciro (2/9)
44 – David (2/9)
44 – Kary (2/9)
39 – Marisa (2/9)
23 – Joserra (1/9)
21 – Graciela (1/9)
CHAMP LIST:
J16: KevinTorres/SopaHMCS, 169
J15: David, 231
J14: Beto/Ciro, 175
J13: (skipped)
J12: DanielRosas, 193
J11: Martha, 185
J10: Alexis, 239
J9: Juan, 237
J8: Aguilucho, 219
J7: Adriana, 188
J6: Nooblet, 219
J5: Mac, 234
J4: Mac, 215
J3: Juan, 172
J2: JoseLuis, 201
J1: JonathanDosSantos, 256