View the Atlante 2-3 Leon highlights here.
The Atlante vs Leon match will take place this Sunday, November 4, 2012 (7:00 PM EDT) at the Estadio Andres Quintana Roo.   The home team Atlante will look to enter the last week in this Apertura 2012 of the Liga MX with possibilities to enter the playoffs.  This can only be attained with a win this week, and another the following, but in front they have one of the league's best and most threatening offenses when they face Leon.  Leon is already qualified into the 'liguilla', but with a win this week, and a series of results next week, they could qualify into the prestigious Copa Libertadores.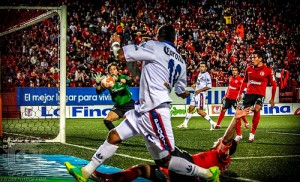 The team coached by Ricardo Antonio Lavolpe has been one of the most inconsistent teams this season, however with two straight wins, Atlante has allowed itself to battle for a playoff seed.   This is a team that obtains good results when it plays good on defense, and nonetheless, in its four games without a loss, they have only received six goals.  However, their offense has also improved as compared to the beginning of the season because in those last four games they have scored nine times, and against Leon they will have to attack because they will face a team that even with that never lets down.
Last week Leon confirmed it was going to the playoffs when it defeated Jaguares.  This is outstanding considering they are Mexico's newest firtst division team, and already being an elite squad is surprising.  In the last two weeks they can reinforce their hierarchy because two wins, or a series of results that puts them in the top three of the standings means they will represent Mexico in the Copa Libertadores of 2013.  Leon is a team that plays aggressive, rapid, and effective soccer; it is not only a team fun to watch, but it is a team to learn from considering their good results.
Prediction: The Atlante vs Leon match will be intense because both teams are playing for a  ticket to another competition.  With three points, the home team will move up to 8th place, and will stay momentarily in a playoff position.  Meanwhile, with a win, Leon moves up to 3rd place, but most importantly, momentarily in a Copa Libertadores position.  Atlante has begun to play well of late, however the pressure produced by Leon's offense will be too much and the score will be 3-1 for Leon.
Television: The Atlante vs Leon game will be this Sunday, November 4, 2012 at 7:00 PM EDT and will be broadcast on Univision Deportes.
View the Atlante 2-3 Leon highlights here.