View the Queretaro 0-1 Chivas highlights here.
The Queretaro vs Chivas match will be this Saturday, November 3, 2012 (7:00 PM ET) at a packed Estadio Corregidora.  Chivas of Guadalajara plays for any hope they have to reach the playoffs because a loss means they are out, while a win puts all the pressure for them to win in their last season match next week against first place Xolos of Tijuana.  On the other hand, Queretaro is the worst team in Mexican league soccer history in recent times.  With a tie last week they barely reached 4 points through fifteen games, while they still have not won a game.  Luckily for them, F.C. Atlas is also having a season to forget, and a win against Chivas keeps them in the fight against relegation into the Ascenso MX.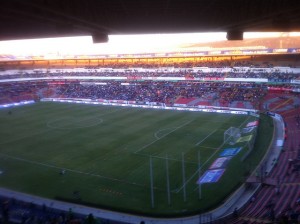 The team coached by Sergio Bueno needs the victory against Chivas because if Atlas loses its last two games, and Queretaro wins them, Atlas would end the season in last place of the relegation percentage table.  Although this seems impossible due to the fact that Queretaro has not won a game all season long, it is still a good way for the Gallos Blancos to get motivated from.  This will lead to a good game between two teams that will play an intensive match.
Chivas of Guadalajara is coming off from a victory by winning and beating their rivals in the city's 'clasico', the 'Clasico Tapatio'.  Chivas defeated Atlas last week 2-0 in a good show of quality soccer, and this has allowed them to enter the season's final two games with the morale up in the sky.  A win against Queretaro puts them that close to a playoff seed, and if forwards Marco Fabian and Rafael Marquez Lugo keep playing like they have, it should not be a problem against the league's worst team.
Prediction: The Queretaro vs Chivas match is an extremely important game for both squads in the sense that both teams play for their lives.  We have Chivas who needs a win to remain alive in the battle for a playoff position, and then there is Queretaro who still has to win; and three points keeps them in the battle to prevent relegation.  The stadium will be packed but with Guadalajara fans, and this will allow the 'chiverio' to push forward in the attack.  In a good match, Chivas will win 2-1.
Television: This Queretaro vs Chivas match will be this Saturday, November 3, 2012 at 7:00 Pm EDT and will be shown on Univision Deportes Network.
View the Queretaro 0-1 Chivas highlights here.