The Puebla vs America 2012 match will be held at the Estadio Cuauhtémoc on Thursday, October 25, 2012 at 10:00 PM EDT. In one of the 'leftover' matches from Week 13 (supposed to be played two weeks ago but due to the World Cup qualifiers it got postponed), Puebla and America face-off in an attempt to escalate regular standings positions.  As one of the worst teams in the Liga MX, Puebla only has twelve points, but still is mathematically in reach of a playoff seed.  Since this seems highly impossible, Puebla will attempt a win against the 'aguilas' to help them in the relegation percentage.  On the other hand, Club America has been a constant threat to opponents all season long, and a win will put them tied with 3rd place team Leon.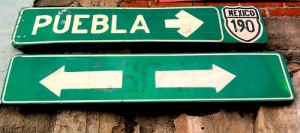 Puebla has had a season to forget, but after they signed coach Daniel Guzman, the team has been on a better road, and more points have gone their way.  Sadly, this team does not suffer from underperforming players, but rather from an under talented squad.  Unless there is a meltdown, Puebla will be saved from relegation this year because Queretaro is still on a freefall, but if things are not improved, they will be in trouble in 2013.  Against America Puebla will have a packed stadium, and the game should be swift with an America attack dominance.  Realistically, Puebla will be pushed to their back field and play a defensive game where they will hope to gain a tie.
Club America has been a power threat and a title favorite since Week 1, and a victory against Puebla will leave with 24 points and very near a playoff seed.  The team from 'coapa' has had a good offense led by Cristian Benitez, but most importantly, the squad had played better as a whole.  Compared to the first weeks, America now plays balanced, and with a better defense.  America is setting up a playoff mentality and run, therefore they are the superior team against Puebla and a victory should be obtained.  It is good to note that goalie Moises Muñoz will return to the starting lineup after months of rehabilitation due to a car accident he suffered in the preseason.
Prediction:  The Puebla vs America match is between two teams who are under pressure to obtain quick points.  However, America has the most talented squad, and has showed they are one of the better teams in the Mexican soccer league.  With a clear ball possession, America will win 2-0.
Television: The Puebla vs America game will be shown this Thursday, October 25, 2012 at 10:00 PM EDT on Azteca America.