View the Leon 4 – 1 Chiapas highlights here.
The Leon vs Chiapas Jaguares match will be held at the Nou Camp on Friday, October 26, 2012 at 10:30 PM EDT. Leon would virtually be guaranteed a spot in the playoffs with a win, and would be one step closer to participating in the Copa Libertadores. Jaguares is very much a contender for the bottom playoff spots, and needs a win against Leon to keep the hopes alive.
Leon- Needs a win to keep Copa Libertadores hopes alive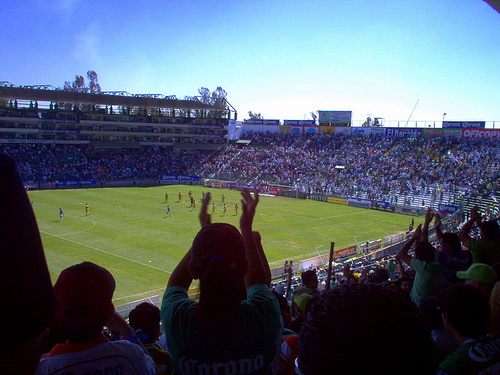 Leon had a tough showing last week against Club America, losing 1-2 due to two goals near the end of the game. However, this loss was more due to America's good play rather than any mistakes on Leon's side. Leon is still one of the top teams in the Liga MX, and has not showed any signs of slowing down. Matosas has done an excellent job maintaining his team at a top level, almost as if he took the momentum from their Ascenso MX championship season straight into the Liga MX.
With 24 points, Leon is currently in third place, and holds the last spot for the Copa Libertadores (top 3 in the standings get to play in the Copa Libertadores). However, Leon is tied with Club America, which also has 24 points, but three less goals in the goal differential. A loss against Jaguares combined with a Club America victory over Pumas would put Leon out of the Copa Libertadores spots. That is why this Leon vs Chiapas Jaguares match holds such important Copa Libertadores implications.
Jaguares – Risen up from the ashes
After starting the season off with four losses, Jaguares has recuperated and now finds itself in the 9th place in the standings with 19 points. Although it is hard to believe, Jaguares can be considered as one of the hottest teams in the Liga MX. Jaguares are on a seven game undefeated streak, earning four wins and three draws in that period. Profe Cruz' strategy has been simple, attack at home and win, park the bus in away matches and squeeze out a point. It has worked out so far.
With 19 points, Jaguares are just one point off Santos and Pumas (8th and 7th in the standings). A Chiapas win against Leon, combined with a draw or loss by either Pumas or Santos, would push Jaguares up into the safety of the playoff spots. Considering Chiapas' last two games are against Pachuca and Pumas, two teams that have been mediocre, it is conceivable to believe Jaguares has a legitimate shot at a playoff spot.
Prediction: The Leon vs Chiapas Jaguares match will pit two teams that are playoff contenders, and it should turn out to be an interesting match. It is very likely that Matosas will use the same strategy he has used all season long, attack, and then some more attack. Profe Cruz will most likely park the bus and play on the counterattack, hoping for a draw. The Leon vs Chiapas Jaguares game will end in a contested 1-1 draw.
Television: The Leon vs Chiapas Jaguares match will be televised on Mun2 this Friday, October 26, 2012 at 10:30 PM EDT. The game will also be shown on delay on Friday at 11:30 PM EDT on Telemundo.