View the Chivas 2 – 1 Xelaju highlights here.
The Chivas of Guadalajara vs Xelaju match will be held at the Estadio Omnilife on Thursday, October 24, 2012 at 10:00 PM EDT.  In the last and most crucial match of Group 8 of the CONCACAF Champions League, these two teams face in which the winner will decide who qualifies into the next round.  Chivas has everything in favor as only a win by any goal difference qualifies them; however, Xelaju already demonstrated that they are no easy target as they defeated Chivas 1-0 in their first meeting.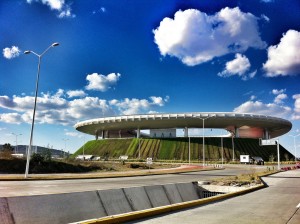 Guadalajara is currently in 2nd place of the group with four points, three behind the rival Xelaju.  On Thursday, they play in their stadium, and a 1-0 victory will put them into the next round.  Chivas has improved its game in the Liga MX, and one could still say that they are more talented and a better team than Xelaju.  However, Chivas has also been a rollercoaster team all season long, as they could win one week, and the next lose to teams like Xelaju (like it previously happened).  Striker and leading scorer Rafael Marquez Lugo is still injured and will miss this match, therefore youngsters Erick Torres and Carlos Fierro will have to step up and lead their team to scoring opportunities.  This will be a tense match for Guadalajara because while the Liga MX is almost a lost cause, surviving in the Concachampions will make this 2012 a not so terrible year.
Guatemala's Xelaju had the worst result they could have hoped for in their last Concachampions match against W Connection when they tied 2-2.  A victory would have given them the qualification into the next round, but the tie only gave them a three point lead over Chivas.  Now, Xelaju is in Guadalajara, against Mexico most popular team to try to prevent the locals from winning.  Like Chivas, all the pressure is in their hands because they will play a severely defensive game to obtain a valuable tie.  If Hernan Medford's team succeeds at the Estadio Omnilife, it will be the first time that a Mexican club does not qualify into the next round of the Concachampions.
Prediction:  It will be a great match between two nervous sides.  Xelaju has played well, but the tie against W Connection was a lack of mentality, and that will cost them dearly.  Chivas has everything in their power to qualify; they are at home, they are more talented, and they have more pressure to succeed.  In a good game, Chivas will win 3-1.
Television:  The Chivas vs Xelaju match will be this Thursday, October 25 2012 at 10:00 PM EDT on Galavision.