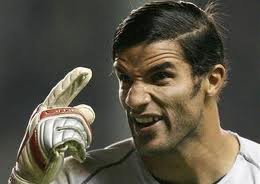 OSWEET QUINIELA
Liga MX Jornada 14
Apertura 2012
How-to: In the comments, predict the result (winner/draw) for each game. Also, predict the scores if you want.
In the first set of parentheses are the game odds, in percentages, for the three possible results (HomeWin/Tie/AwayWin); in the second set of parentheses are the points, based on the odds, you'll get for each correct prediction. Correctly picking underdogs (See Puebla) gets more points.
Objective: System is designed to produce an average score of 100; so the basic goal is to get more than 100 points.
Deadline: Friday at 8:30 p.m. ET, when the first game kicks off.
ODDS and POINTS
(52/27/21) – (21/41/53)
(43/29/28) – (26/38/40)
(38/29/33) – (29/38/33)
(22/26/52) – (51/42/21)
(38/29/33) – (29/38/34)
(49/27/24) – (23/40/47)
(47/28/25) – (23/39/45)
(47/27/26) – (24/40/43)
(38/29/33) – (29/37/34)
9 GAMES:
Chiapas v. Puebla
Tijuana v. Cruz Azul
America v. Leon
Queretaro v. Morelia
Pachuca v. Monterrey
Tigres v. Pumas
Atlas v. San Luis
Toluca v. Santos
Atlante v. Chivas
CHAMP LIST:
J13: (skipped)
J12: DanielRosas, 193
J11: Martha, 185
J10: Alexis, 239
J9: Juan, 237
J8: Aguilucho, 219
J7: Adriana, 188
J6: Nooblet, 219
J5: Mac, 234
J4: Mac, 215
J3: Juan, 172
J2: JoseLuis, 201
J1: JonathanDosSantos, 256