View the Mexico vs El Salvador 2-0 Highlights here.
The Mexico vs El Salvador CONCACAF qualifying match will be played on Tuesday, October 16, 2012 at 9:00 PM EDT at the TSM in Torreon. El Salvador needs to have two miracles in one day, in order for them to move on to the final round of the qualifiers: El Salvador must defeat Mexico and Guyana must defeat Costa Rica in Costa Rica. Mexico is already qualified to the hexagonal round, and will merely play to delight the home fans and try to maintain the perfect record in the qualifiers. Will El Salvador pull off the biggest miracle in soccer history?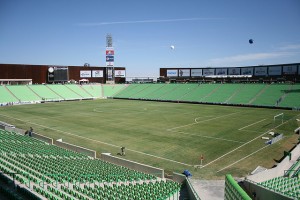 Mexico wins but still criticized
Last Friday against Guyana, Mexico didn't score for 77 minutes, but when it did, it opened up the flood gates and ended up winning 5-0. The Mexican press argued that the Mexican National team looked bad, that it missed too much (it did), that Chicharito is out of rhythm, etc. All that does not matter. The match against Guyana was basically a friendly, with neither team playing for anything, and to cap it all off, the match was played in Houston (to great monetary benefit of the Guyanese soccer federation).
Mexico got the job done in a meaningless game with an alternate squad. The only real concern is that Chicharito looked fairly bad, and it shows that not playing at Manchester United has affected him. Now against El Salvador, Mexico will be looking to finish Group B play with six out of six wins.
El Salvador – sad and injured
El Salvador had their destiny in their own hands, they needed a win against Costa Rica in El Cuscatlan last Friday. Instead, the team fell flat and lost 1-0, essentially eliminating them from the World Cup qualifiers. Now, El Salvador has to hope for a miracle, it must defeat Mexico and hope Guyana defeats Costa Rica. Frankly, either of these things happening is a long-shot, and to have them both happen on the same night makes it almost impossible.
To further complicate things for El Salvador, they will be missing three key players. Eliseo Quintanilla and Alfredo Pacheco received red cards and will not be able to play against Mexico. Rodolfo Zelaya won't be able to play either due to an injury he received in the match against Costa Rica. Without these players, a surprise away victory in Mexico seems near impossible.
Prediction: The Mexico vs El Salvador match will be a low-key event between a team that is distraught after a tough loss and a home squad that has nothing on the line other than honor. El Salvador's morale must be quite low after the disheartening loss at home, keeping the team focused on playing well will be a difficult task for Head Coach Castillo. Expect Mexico to come out looking to attack constantly, while El Salvador is forced back to defend. The Mexico vs El Salvador match will end 3-0 in favor of Mexico, officially eliminating El Salvador from the CONCACAF qualifiers.
Television: The Mexico vs El Salvador match will be televised on Tuesday, October 16, 2012 at 9:00 PM EDT on Univision.
Note: Come back to FutnSoccer after the match, we will have the Mexico vs El Salvador highlights ready around twenty minutes after the game ends.