View the Canada 3 – 0 Cuba highlights here.
The Canada vs Cuba match is a must-win game for Canada that will be played on Friday, October 12, 2012 at 7:45 PM EDT at the BMO Field in Toronto. Canada currently has seven points and finds itself in third place of Group C (Honduras also has seven points, but with a +2 goal difference, Canada is +0). Given that Canada has to end Group C play with a match in Honduras, it is vital for Canada to secure what is considered the easiest three points in the group. Will Canada secure this important win against an already eliminated Cuba?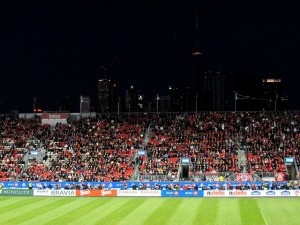 Canada has had a tremendous amount of difficulty scoring, with only two goals scored in four matches. On the flip side, they have only allowed two goals. However, they will be facing a Cuban team that has allowed six goals, has not scored a single goal, and has lost all of its matches. Don't expect Cuba to score a goal any time soon. All statistics point at a Canadian victory this Friday in Toronto, but the Canadian squad still needs to finish off the Cuban squad. When Canada visited Havana, they struggled all game to score just a single goal that gave them the slim 1-0 victory. In Toronto, Canada needs to go on the attack early on to guarantee an early goal that alleviates the stress of winning.
Not only is Canada forced to defeat Cuba, but it also has to pile on the goals. Lets take a look at the three different scenarios that can occur this Friday, and what it means to Canada (I'm assuming in all scenarios that Canada defeats Cuba).
#1. Panama defeats Honduras. Panama moves to 12 points, and qualifies to the next round. Honduras stays with seven points, and would be forced to defeat Canada in San Pedro Sula. In this scenario, the goal difference plays a huge factor. Canada qualifies with a win or draw against Honduras, or even a loss depending on the goal differential.
#2. Panama and Honduras draw. Panama moves to 10 points, and likely qualifies to the next round as they get an easy visit in Havana. Honduras moves to eight points, and would be forced to defeat Canada in San Pedro Sula. Canada qualifies to the next round with a win or draw against Honduras, a loss eliminates them. Goal difference plays no role in this scenario.
#3. Honduras defeats Panama. Panama drops to third place with nine points, but has an easy win guaranteed in Havana, which pushes them to 12 and a spot in the hexagonal round. Honduras moves up to ten points. This is where the goal differential is huge. Depending on who has the most goals in favor between Honduras and Canada, dictates whether a draw is enough for Canada, or if it is forced to look for a win. A loss would mean elimination for Canada.
Obviously, all three scenarios count on Canada defeating Cuba, a draw or loss would be catastrophic and would surely eliminate Canada, barring a miracle at Honduras. Seeing as Cuba has been probably the worst team in this round of the CONCACAF qualifiers, a Canadian win is pretty much guaranteed. What Canada needs to focus on is piling on the goals. A three or four goal win would be huge, and would be a big step in earning a ticket to the final qualifying round.
Prediction: The Canada vs Cuba match will pit a team that has issues scoring (Canada) against a team that can't score at all (Cuba). The Canadian win is almost guaranteed, what isn't, and what will play a very important role, is the amount of goals it will score on Cuba. Realistically, Canada needs to win by at least three goals to make sure they aren't forced to win in Honduras on Tuesday. The Canada vs Cuba match will end in a 2-0 victory for Canada, leaving the Canadians to earn their ticket in a tough road test in Honduras.
Television: The Canada vs Cuba match will be televised on Friday, October 12, 2012 at 7:45 PM EDT on Sportsnet One in Canada.
Note: Dwayne De Rosario is out with an injury, Canada will have to cope without their leader.
Canada Roster
Goalkeeper- Lars Hirschfeld (Valerenga Fotball/Norway)
Goalkeeper- Kenny Stamatopoulos (AIK Fotbol/Sweden)
Goalkeeper- Milan Borjan (Sivasspor/Turkey)
Defender – Ante Jazic (Chivas USA/MLS)
Defender – Kevin McKenna (FC Koln/Germany)
Defender – Andre Hainault (Houston Dynamo/MLS)
Defender – Marcel de Jong (FC Augsburg/Germany)
Defender – Dejan Jakovic (D.C. United/MLS)
Defender – Mike Klukowski (APOEL/Cyprus)
Defender – David Edgar (Burnley FC/England)
Midfielder – Nik Ledgerwood (Hammarby Fotboll/Sweden)
Midfielder – Julian de Guzman (FC Dallas/MLS)
Midfielder – Terry Dunfield (Toronto FC/MLS)
Midfielder- Will Johnson (Real Salt Lake/MLS)
Midfielder- Atiba Hutchinson (PSV Eindhoven/Netherlands)
Midfielder – Patrice Bernier (Montreal Impact/MLS)
Midfielder- Pedro Pacheco (CD Santa Clara/Portugal)
Forward – Tosaint Ricketts (Politehnica Timisoara/Romania)
Forward – Simeon Jackson (Norwich City/England)
Forward – Iain Hume (Doncaster Rovers/England)
Forward – Olivier Occean (Eintracht Frankfurt/Germany)