View the El Salvador 0 – 1 Costa Rica Highlights here. A sad night in El Cuscatlan…
The El Salvador vs Costa Rica match is a key Group B confrontation that will be held on Friday, October 12, 2012 at 9:30 PM EDT at the Estadio Cuscatlan in San Salvador. Essentially, this match will decide whether El Salvador or Costa Rica moves on to the final round of the CONCACAF World Cup Qualifiers. A victory by El Salvador puts them through to the next round, a draw delays everything until the last match (next Tuesday), and a loss forces El Salvador to look for a win in Mexico. Will El Salvador clinch this essential win at home against Costa Rica?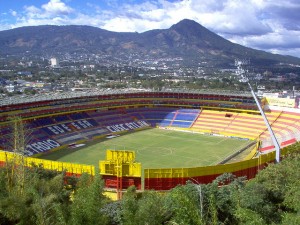 El Salvador currently has five points and finds itself one point ahead of Costa Rica, with just two matches left to play in Group B of the CONCACAF Qualifiers. In its first four games, El Salvador drew 2-2 against Costa Rica in San Jose, lost at home against Mexico 1-2, drew at home against Guyana 2-2, and defeated Guyana 3-2 in the return match. El Salvador's only black mark is its 2-2 draw against Guyana in El Cuscatlan, a win there would have really piled the pressure on Costa Rica. Overall though, El Salvador has played an effective style of soccer that has them just one win away from playing in the final round of the qualifiers.
Costa Rica has been a bit of a disappointment so far; expected to be the favorite to win the second spot in Group B, it has only earned one win in four matches. Costa Rica currently has four points, thanks to its home draw against El Salvador, a win at Guyana, and back to back losses against Mexico. Other than the game at Guyana, Costa Rica has looked bad in all of its games. Against El Salvador, it let go of an early 2-0 lead that could end up costing them a World Cup ticket, and in both matches against Mexico it never looked like it could pull off a draw, much less a win. Now the Ticos have forced themselves to at least draw in San Salvador or face elimination.
The El Salvador vs Costa Rica match will be spectacular, it is almost certain that El Cuscatlan will be completely sold out, and the fans know that a win guarantees a ticket to the next round: they will be loud, very loud. Although El Salvador is mathematically still in the fight if it ties or loses against Costa Rica, logic dictates that El Salvador would be eliminated if either of these results were to happen. A draw or loss would mean El Salvador would have to beat Mexico in Mexico (I'm assuming Costa Rica defeats Guyana at home, 95% sure this will happen), and considering Mexico has won all of its game, I doubt they will lose at home. Therefore, this is really an all or nothing match for El Salvador.
Prediction: The El Salvador vs Costa Rica match will be a contested affair with two teams fighting for a chance to move on in the CONCACAF qualifiers. El Salvador needs to win, plain and simple. Costa Rica cannot lose, and would happily settle for a draw. I expect Costa Rica to come with a defensive, counterattacking approach. Costa Rica knows El Salvador has to go on the offensive looking for the win, and will try to exploit this. In the end, the home crowd, and the desire to win will lift El Salvador to a 2-1 victory over Costa Rica. Expect a great El Salvador vs Costa Rica match.
Television: The El Salvador vs Costa Rica match will be televised on Friday, October 12, 2012 at 9:30 PM EDT on CentroAmerica TV (a USA channel available on major cable and dish companies).