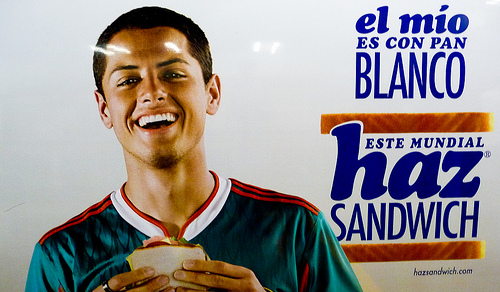 Chicharito is going to Porto – that is what is being rumored in various news sites across the sports world. Portuguese newspaper 'A Bola', were the first to report the rumor. Supposedly, Manchester United would trade Chicharito for Porto's James Rodriguez.
Javier Hernandez has not seen much action since Robin Van Persie joined Manchester United, and rumors about Chicharito leaving Manchester United have been heard since then. Although the trade is just a rumor, neither Manchester United nor Porto have gone on to state that it's fact or fiction. Either way, the trade wouldn't occur until the Winter trade period; Chicharito still has a couple of more months left to ride the bench (or many more months if no trade occurs).
Frankly, a move to Porto would be great for Chicharito, he wouldn't have to compete against top-class forwards like Van Persie, Rooney and Welbeck for a spot. Plus, Chicharito would hopefully regain the level of play he had when he first arrived in Europe. Recent performances with the Mexican National squad and Manchester United (when given the chance to play) have been sub-par at best.
Whether this rumor is true or not, Chicharito's main concern for the short term is Mexico's upcoming CONCACAF qualification matches against El Salvador and Guyana. Chicharito is one of three forwards that were called up to the Mexican squad, so he will almost certainly make an appearance.
What do you think, is Porto a good option for Chicharito?