The Morelia vs Jaguares match will be held on Thursday, October 4, 2012 at 9:30 PM EDT at the Estadio Morelos. Morelia and Jaguares have not had a good season so far: Morelia started off well but has considerably slowed down, Jaguares started off terribly but has gotten slightly better. Both teams need a win, Morelia to remain the middle of the playoff race, and Jaguares to stay within striking distance of a playoff spot.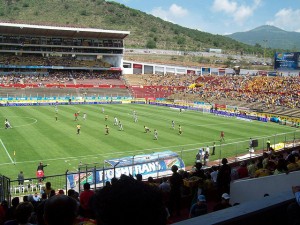 Morelia currently finds itself in 8th place of the Liga MX with 14 points. It has not won a match since Week 6, having earned two ties and two losses since then. In its past two games against America and Tigres, it has looked content to earn the 1-1 draws, not really attempting to go out for the win. I suspect Morelia will finally decide that it just has to get the win against Jaguares at home. If Morelia does not earn three points, it jeopardizes a playoff berth due to the intense competition from teams in the 8th to 14th spot (Pumas, Chivas, Pachuca, etc.).
Jaguares started off the season terribly, but in the last three games it has recovered a bit, winning two and drawing one. Overall, the team stats are atrocious: 16 goals allowed, and only 10 scored. Now, the defense has recovered, not allowing a goal in its last three games. But the offense is still an issue, against Cruz Azul in Week 10, Jaguares was able to win 1-0 thanks to an own goal, other than that, they had no attacking opportunities. However, the team is much improved from the early-season version, which allowed goals by the handful and was still ineffective on offense.
Prediction: The Morelia vs Jaguares match will be a tight contest between two teams that aren't having a good season. Morelia should attempt to get a win if it wants to remain in the playoff spots, we shall see if it attempts to do so or is content with another tie. Jaguares needs to win in order to keep playoff hopes alive, although it is likely that the team would be more than happy earning a single point. The Morelia vs Jaguares match will end in a 2-0 victory for the home team. Morelia simply needs this victory too much.
Television: The Morelia vs Jaguares match will be televised this Wednesday at 9:30 PM EDT on Azteca America.