The Toluca vs Queretaro match will be held this Wednesday, October 3rd, 2012 at 8:00 PM EDT at the Estadio Nemesio Diez. This will be a match of contrasts, the best team of the Liga MX against the worst team, solid championship candidate vs solid relegation candidate. Plain and simple, Toluca has earned 23 points this season, Queretaro 2: yea, just 2, two, dos, deux, ridiculously bad season. Will Queretaro pull off the upset of the season and defeat Toluca in their own stadium?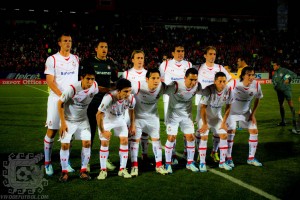 Toluca has been outstanding this season: seven wins, two draws, only 1 loss, 16 goals scored (2nd best in the Liga MX), and nine goals allowed (3rd best). Toluca has won its last two games convincingly, and has looked as good as ever. Meza has done a great job with this team, taking a squad that didn't make the playoffs last season into a solid championship contender (and a firm candidate to participate in the Copa Libertadores). Good on offense and defense, solid in all lines, and led by an experienced and re-surging Sinha. Toluca is a clear favorite to win this match.
Queretaro has been an absolute disaster this season. Apparently all of the issues with the ownership, changing of coaches, and player problems, have added up to create a terrible season that may very well sentence the team to the Ascenso MX. Here are Queretaro's stats: two draws, eight losses, five goals scored (worst in Liga MX), and 19 goals allowed (worst in Liga MX). A team that lost all of its good players, and instead of reinforcing all of its lines, went to Carlos Bueno as its main signing of the season: things have not worked out for them.
To make things worse for Queretaro, Toluca has the best home record of the Liga MX (tied with Xolos), of four wins and one draw. Of course, Queretaro has the worse visiting record, with just two draws earned. Queretaro is just plain awful, and it would be a grand accomplishment for them to take any points at all from Toluca.
Prediction: The Toluca vs Queretaro match is the most one-sided game we are likely to see all season long. Toluca is a clear favorite to win this match, anything other than a win would be a huge disappointment. The Toluca vs Queretaro final score will be 3-0.
Television: The Toluca vs Queretaro match will be televised this Wednesday, October 3 at 8:00 PM EDT on Univision Deportes.