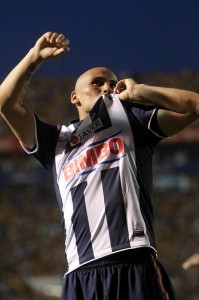 In a match between two of the league's best teams, Monterrey faces Xolos of Tijuana this Wednesday, October 3, 2012 (10:00 PM EDT) at the Estadio Tecnologico.  Monterrey had been on an outstanding streak where they had only lost in week 2; that is until they faced Leon last week and lost 2-0.  Against Club Tijuana they will attempt to get back to their winning ways but they face the tournament's co-leader.  Xolos have not lost since week 2 (also against Leon), and have been consistent all Apertura 2012.  With a good defense and an outstanding counter-attack system, Tijuana has been able to obtain points week-after-week.
The 'rayados' were easily beaten last week by Leon partly due to all its injuries.  They missed strikers Aldo De Nigris, Humberto Suazo, and Cesar Delgado among other players.  Against Tijuana, De Nigris and Delgado are back, which will allow the offense to get near its best shape.  Monterrey is an elite team in the Liga MX, and Wednesday night they will have to prove why in front of their home crowd.  Monterrey has beat Xolos in the past, most recently in the Clausura 2012 playoffs, there they know they have the strength to beat the classy Xoloitzcuintles.
The team lead by Antonio Mohamed has not been a team that has annihilated opponents, but rather it has been a squad that has played consistently every week.  The trick to Tijuana's success has been the possession of the ball, meaning they fight for every ball, is very conservative in the back-line, and rarely make dumb passes or crosses.  Xolos are a smart team, and that is translated with the 23 points they have earned thus far into the season.  Against Monterrey they face a difficult task because the rayados have also been mostly consistent, and also have a dangerous offense.
Prediction:  Monterrey and Tijuana are two good teams who will undeniably end the season on the top of the standings.  Tijuana has not lost in eight games, and although Monterrey lost its last vs. Leon, they still have the capability to get back on track.  Therefore, Monterrey has all the support of its home stadium, and will win a very intense and difficult match in what is the game of the week.  Monterrey wins 2-1.
Television: The Monterrey vs. Xolos of Tijuana game will be shown this Wednesday, October 3, 2012 at 10:00 PM EDT on Univision Deportes.