View the Leon 2 vs Pumas 1 Highlights here.
The Leon vs Pumas  match of week 11 in the Liga MX will be held at the Estadio Nou Camp on Wednesday, October 3rd at 9:30 PM EDT.
Pumas, issues building up
Pumas comes from beating Puebla, but that does not mean everything is good in Ciudad Universitaria. There are just a couple of weeks left to end the regular season, and Pumas needs to get on a roll and start wining more games; this is where the task gets harder.
Against Leon, it will not be easy at all. Visiting Nou Camp is one of the hardest experiences for any team, due to the passion of their fans (and the good play of the team). Pumas will have to try harder and start rolling the ball and passing from the beginning. Villa and Bravo will have to move more in order to have ball possession and be able to score. Defense will also be key in the game, and Pumas is one of the teams that has received less goals.
Overall it seems like Pumas might get better if they continue adapting to each other, but we might not get to see the best of their collective game as the season reaches its peak.
Leon, strong start but, fading away?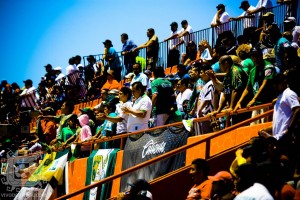 Leon has been a surprise this tournament, being that they just changed category from Ascenso to First division; it is a great thing for the franchise being placed in third. Of course, the support received from Jesus Martinez (Pachuca) had a lot to do with it, but regardless, the team has responded and their players are feeling the colors.
Leon is no stranger to being a first class team, having 5 titles, they know what it's like to win against the "big teams", and Pumas being considered one of them provokes no fear in Leon.
Prediction: The Leon vs Pumas match is going to be a very hard game for Pumas, especially being at Leon, Pumas will have to depend on players like Cortez and Fuentes or Velarde to move the ball ahead. Leon will count on Burbano and Maz to try and pass over Veron and Palacios. A 1-1 draw seems like the most likely scenario.
Television: The Leon vs Pumas match will be televised this Wednesday, October 3 at 9:30 PM EDT on Mun2.