The Cruz Azul vs Atlante match will be held on Wednesday, October 3rd, 2012 at 8:00 PM EDT at the Estadio Azul. It will be a game that pits two teams that are undergoing through pretty bad streaks, but a win would put them right back in the middle of the playoff race. Can either of these two teams come out of their slumps with a win?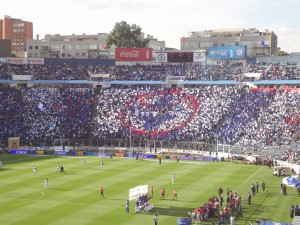 Cruz Azul hasn't won any of its last four games: it has two losses and two draws in that period. Furthermore,  it is a team that is absolutely ineffective on offense: Cruz Azul has only scored seven goals in 10 matches, the second worst offense in the Liga MX (just behind Queretaro, which has only scored five). The bright spot in this team is the defense, which has only allowed seven goals in 10 games (best in the Liga MX).
Last week at Jaguares, Cruz Azul looked flat on the offense, generating absolutely no offensive plays against one of the teams with the worst defenses in the Liga MX. Their only goal-scoring opportunity took place when Perea scored an own-goal, leading to Cruz Azul's 1-0 defeat. Memo Vazquez has done a great job on defense, but he has been unable to work out an effective offense for his team. I don't expect Cruz Azul will revive their offense during the Apertura 2012.
Atlante has lost its last three games, and looked very bad in the home 1-3 loss against Santos last week. La Volpe needs to recover the level of play Atlante once showed: a strong defensive team that could squeeze out the points (one at a time of course). Now the defense looks quite bad, and it doesn't help that Esteban Paredes is out injured (he scored 6 out of 1o goals for Atlante). If La Volpe doesn't fix his defense, Atlante is in danger of becoming a porous team with no offense.
Prediction: The Cruz Azul vs Atlante match will be a tight, defensive-oriented, and boring match. Neither of these teams has a good offense, but each has shown that they can be quite effective at defending. I suspect La Volpe will come in with a highly defensive formation, and Cruz Azul will try to attack, but will be as ineffective on offense as they've been all season long. The final score for the Cruz Azul vs Atlante match will be 0-0.
Television: The Cruz Azul vs Atlante match will be televised this Wednesday, October 3rd, 2012 at 8:00 PM EDT on Azteca America.