The San Luis vs America match will take place Tuesday, October 2nd at 9:30 PM EDT at the Estadio Alfonso Lastras. After Alex Aguinaga took over as San Luis' head coach in Week 7, San Luis has won twice, tied once, and lost just once; it is a much better team than its position in the Liga MX standings would imply. Club America is on a four game unbeaten streak, and will look to extend that against their former "little brothers".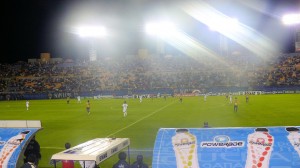 Ever since Aguinaga took over, San Luis has become a team that has a simple mission: do not allow the other team to score. If San Luis scores in the process of defending, that's just gravy on top. Aguinaga has come out and explicitly said that they are coming in to games with the sole intention of getting a draw and that valuable point. And it's working. In the last three matches, San Luis has not allowed a single goal, and has won two, and tied once. They don't play flashy soccer, rarely attack, and it might even be a bit boring to watch, but San Luis are true warriors when it comes to defending. Aguinaga essentially took a page from Raul Arias' playbook and is copying it, a playing style that worked so well in Arias' coaching reign.
Club America currently finds itself with 15 points and in fifth place of the Liga MX standings; a spot in the playoffs seems all but certain. Furthermore, America is unbeaten in its last four games, has the second best offense in the Liga MX (16 goals scored), and the third best defense (9 allowed). However, it's not all good for the "azulcremas", you would think with those stats they'd be piling up the wins. Not the case. America has only won 3 matches, and tied 6, including three out of the four games in their current undefeated streak.
For whatever reason, Club America can't seem to finish off the competition, and is constantly frustrated with matches ending in draws and disappointing one point gains. To further complicate things, Benitez, America's top scorer (6 goals), is coming off an injury that sidelined him in Week 10's match against Morelia. Miguel Herrera has stated that Benitez is ready to play, although it is unknown if Benitez is capable of playing a full ninety minutes, or if Herrera will give him a rest to prepare Benitez for this weekend's match against Chivas.
Prediction: The San Luis vs America match will be a tough contest, San Luis will surely repeat the successful strategy of the past three games, defend at all costs, scoring is an afterthought. Club America will  try to be the aggressive team and go for the win; however, it is unknown how many minutes, if at all, Benitez will play, he is the key to America's success. I suspect Benitez will play, but not for the full 90 minutes. In the end, San Luis defense will be too tough, and America will have to settle for yet another draw. The final score for the San Luis vs America match will be 0-0.
Television: The San Luis vs America match will be televised this Tuesday at 9:30 PM EDT on Univision Deportes.