The Chivas vs Tigres match will be held on Tuesday, October 2nd at 8:00 PM EDT at the Estadio Ominilife. This match is a key test for the Guadalajara based team, which needs to win in order to remain within striking distance of a playoff spot. Chivas has just 10 points earned from 10 matches played in the Liga MX, it is already four points behind the 8th placed team, and a loss against Tigres would really hurt their playoff hopes. Tigres is right in the middle of the playoff race with 14 points earned in 10 matches; Tuca would be more than happy to come out of Estadio Omnilife with a point. Has the Dutch Experiment in Chivas been a complete failure?
Now, it's not all Cruyff's or Van't Schip's fault, Chivas players have missed two penalty kicks in the past two matches that have cost the team four key points (made penalty kicks would have resulted in a win against Pumas and a draw against Pachuca). These four points would have placed Chivas right in the middle of the playoff race, and just one point behind arch-rival Club America (which they play this upcoming weekend). Furthermore, Chivas has several key players injured: Marquez Lugo, Marco Fabian, and Arellano. It's hard to have an effective team when three key players are missing.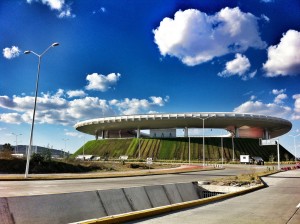 All of the injured players, penalty misses, new Dutch coaches, and bad owners have added up to create a pretty mediocre season for Chivas: 10 points in 10 games (plus the embarrassing Champions League results), just seven goals scored in 10 games and already slim chances to qualify for the playoffs. Chivas needs a win, and it needs it badly. A win would place them in the middle of the playoff race, a loss would drop them almost too far down to recover. With the upcoming "super clasico" this weekend, Chivas needs to regain some of its confidence by getting a win, but Tuca's Tigres will definitely have something to say about that.
Tigres has not had a great season, but it is still a strong candidate to make it to the playoffs, Tigres has three wins, five draws, and two losses that add up to 14 points. Surprisingly, Tigres has struggled on defense, having allowed 10 goals in as many games. Although not bad by any means, it is not the strong, defensive team we are expected to see from Tucas' teams. They have been quite good on the offense, thanks to the leadership of Luca Lobos, arguably the Liga MX's best midfielder. However, Tigres is on a bit of a slump, having tied their last two matches, and looking a bit sluggish on offense.
Prediction: The Chivas vs Tigres match is huge for Chivas, I truly believe that a win here can give them a real chance at making the playoffs, and a loss will virtually eliminate them. Tigres will come in with a defensive scheme and try to capitalize on Chivas' mistakes, Tigres' offense has not looked so great the past two games, and I doubt they will show up in an away game. In the end, Chivas and Tigres fight to a standstill and take one point each, seriously hurting Chivas' chances of a playoff spot. The score of the Chivas vs Tigres match will be 1-1.  
Television: The Chivas vs Tigres match will be televised this Tuesday, October 2nd at 8 PM EDT on Mun2. Telemundo will show a replay of the match at 11:30 PM EDT. By the way, Mun2 is Telemundo's sister channel, I have personally never heard of it before last week's Leon home match, and am not sure where it can be seen.