In a match between David vs. Goliath, Queretaro receives Xolos of Tijuana at home this Saturday, September 29, 2012 (16:00 PM EDT) at the Estadio La Corregidora.  Gallos Blancos are the far inferior team in this match as they have only gathered two ties in the nine weeks of the Liga MX.  The relegation favorite faces a surprising Club Tijuana who has 18 more points than Queretaro, who has only lost one match, and who is on a quick pace to the postseason.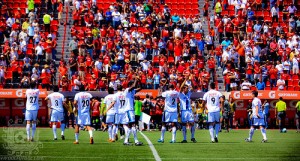 Since coach Sergio Bueno joined the team, Gallos Blancos has notably played better as they tied against Atlas, and lost in a hard-fought game last week against Monterrey, 3-2.  However, Queretaro is having a season to forget, because this is a team that cannot score goals, and which also has the league's worst defense.  This team is obliged to win against Xolos at home if it wants to remain in the battle against relegation into the Ascenso MX, but a win against the 2nd place team will be a difficult task.  The problem with Queretaro is they do not have a leader on the pitch; they lack a real star.  Striker Carlos Bueno came back this season, but his presence has been barely felt, and while Queretaro players do their best to obtain good results, they just do not have the needed talent to succeed in Mexico's first division soccer.
Second place Xolos is currently in 2nd place of the regular standings with twenty points, and are coming from a tie at home against Atlas.  Tijuana has played well every week (excluding Week 2 when they lost against Leon 4-0), and this is mainly due to the mentality coach Antonio Mohamed has brought to the squad.  This Saturday, they face Mexico's weakest team, and the three points could easily be attained if Xolos play with a tight defense.  If the defense is on their game, this Xolos squad is very difficult to defeat, and it would only take a good set pieces or a counter-attack to win the game.  Tijuana is coming out of a painful defeat mid-week in the Copa MX against Correcaminos in which they lost in penalty kicks after a 5-5 in regular time.  It is interesting to see if this loss will affect the team's mentality.
Prediction:  Queretaro is improving, but this team's problem is the lack of talent.  And most importantly, it is hard to imagine that this team will not win a game this entire season, right? Xolos knows that a win keeps them on top of the standings, and it takes them to 23 points.  On Saturday, the home crowd at La Corregidora is quickly diminishing week-by-week, and it should not influence on the result.  It will be a close match, but Xolos is the better team.  Club Tijuana defeats Queretaro 2-0.
Television:  The Queretaro vs. Xolos game will be shown this Saturday, September 29, 2012 at 6:00 PM EDT on Univision Deportes 2.