Sluggish C.F. Pachuca hosts Chivas of Guadalajara this Saturday, September 29, 2012 (7:30 PM EDT) at the Estadio Hidalgo.  Both teams have underperformed this season as they are behind in the struggle for playoffs contention.  Both teams have ten points after nine weeks of poor games, but interestingly, a victory will put them near the top-8 seeds.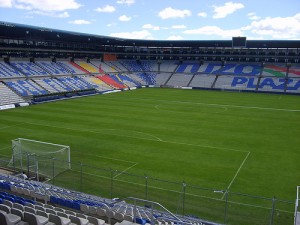 The Tuzos of Pachuca had been on a decent streak where they had tied two and won one against difficult teams (Santos, Cruz Azul, Morelia), but last week they lost in a poor manner against San Luis who is also one of the worst teams during this Liga MX.  For a team that had so many player additions during the offseason, Pachuca is doing terribly.  They are regarded as having the most talented squad in the league, along with the most controversial coach – Hugo Sanchez- but regardless, the results have not gone their way.  Pachuca still has time to change its direction as the season is only on its half-way mark, but the dilemma is that there is no consistency in the starting line-up.  One game we will see Alberto Medina on the right wing, then the other Nestor Calderon; while in the striker position there has been up to four different starters with Nery Castillo, Raul Tamudo, Segundo Castillo, and Felix Borja.
With a weaker squad but with the same quality of play, Chivas of Guadalajara is weakened but still in the fight to attain a much desired playoff seed.  With a mere two victories, Chivas has survived thanks to a defense that has only allowed eight goals in nine games.  Chivas has not been able to hit the top-form mark, due in part because they have been riddled with injuries like those of Marco Fabian, or Omar Arellano.  In order for the goats to win in Pachuca, they need their forwards to seize the low amount of scoring opportunities given to them.  Given the fact that Chivas does not have the offensive talent to be a goal-scoring machine, this team needs to be smarter on the set pieces and on the counter-attack.
Prediction:  Both teams are very similar in terms of success and quality of play.  Before the Apertura 2012 had started, one would think this was one of the games of the season; however, today this is a game to confirm what team has no real hopes of reaching the playoffs.  Chivas is on three games without defeat, but that streak will end, especially if they play like they did against W. Connection mid-week where they tied 1-1.  It will be an interesting game, and Pachuca will defeat Chivas 3-1.
Television: The Pachuca vs. Chivas game will be shown this Saturday, September 29, 2012 at 7:30 PM EDT, on Univision Deportes.