Pumas will be hosting Puebla on Sunday, September 30th at Estadio Olimpico Universitario at 10:00am PST.
Pumas, a big opportunity to start winning at home
Pumas is clearly not on track to become a contender for the playoffs and with the numbers they have, it seems like their best bet is to acquire a better system of play.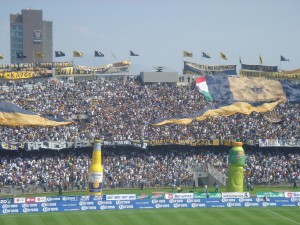 Last week against Chivas it was a forced game, fast and perhaps the referee made a couple of mistakes that affected the game's result. However, their collective game did not seem to improve much and that is something that Carrillo should be working on by now. It is still unbelievable that players like Luis Garcia, Martin Romagnoli and Jaime Lozano are in the bench and they get to play little to no minutes. With Jehu Chiapas out for injury we might have a great chance to see Romagnoli in the initial line up against Puebla.
Puebla, a difficult task for Guzman
Coaching Puebla is not an easy task, in fact it is a very risky one. The only coach that managed to have Puebla in good standing under Henaine's ownership has been Jose Luis Sanchez Sola, whom took them to the playoff and semifinals. After the Sanchez Sola left the team, it has been a struggle to find the right coach that can take this team to their former glory and become a champion again. The coach in turn is Daniel Guzman.
Although Puebla under Guzman's coaching has 1 win, 2 ties and 1 loss. The team seems to somewhat respond to the requirements asked. In games such as the one against Monterrey, we saw a back and forth of attacks and the team did not back down. Yes, they lost, however, they fought it until the end and that is the reaction a fan wants to see in their team.
Prediction: The Pumas vs Puebla match is not going to be an easy game for either team. I believe it will be a game stuck in the middle of the field with lateral attacks from both seeking for their strikers in the front line. A likely result will be a tie 1-1.
Television: The Pumas vs Puebla 2012 match will be televised this Sunday 10 AM PST on Univision.