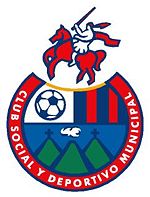 In Group 6 of the CONCACAF Champions League, Monterrey faces CSD Municipal this Tuesday September 25, 2012 (10:00 PM EDT) at the Estadio Tecnologico.  The 'rayados' come into this game as first place of the group with a perfect six points in two games.  Guatemala's Municipal will play for its survival in this tournament as a victory leaves them with some hope to qualify into the next round.  Nonetheless, Monterrey will have the home advantage and are clear favorites to win the match and the group.
Unlike other Mexican clubs, Monterrey has put a lot of importance into this year's Concachampions.  The reigning champs have played their past two games with the full starting lineup, and have beat Chorrillo 5-0 and Municipal 1-0.  This is a team that will attend the clubs World cup at the end of the year for the second time in a row, and are playing to increase that number to three.  Monterrey only needs one point to qualify into the next round, therefore it will not be surprising to see coach Victor Manuel Vucetich put an alternate squad on the field, or to have a mixture between starters and bench players.  Reality is, Monterrey has two games left in the group stage and with the Liga MX coming to its difficult stages, Monterrey will opt to play with alternate players.
Municipal also has six points, and is currently in 2nd place of Group 6 due to goal difference; however, the Guatemalan squad already played three matches and the game at the Tecnologico will be their last.  In order to qualify to the next round, Municipal needs to win against Monterrey to end with nine points, and hope that Chorrillo makes a surprise victory against the Mexican team.  This is a very difficult task to complete, therefore it is almost certain that Municipal is playing their last game in this tournament.
Prediction:  With, or without the starters, Monterrey is the superior team and this team has one of the most talented squads in Mexican soccer.  Municipal played a good match against them in Guatemala, but the pressure is against them now.  Monterrey needs a tie to qualify, which will lead them to play a conservative game while Municipal will attack leading to gaps in the defense.  Monterrey will win 2-1.
Television: The Monterrey vs. Municipal match will be shown this Tuesday, September 25 at 10:00 PM EDT on Fox Soccer 2Go and Galavision.