We are officially past the half-way mark in this Apertura 2012 of the Liga MX.  After nine weeks of play, Toluca sits on top of the regular standings with 20 points, while Xolos is in 2nd with also 20 points, but a lower goal difference.  There are teams that have surprised fans and analysts alike with either their outstanding (as is the case with newly promoted Leon), or atrocious results (the case with all-star talented Pachuca).  Nonetheless, good results are created by squads that play like teams, but in some instances, there are teams whose results are influenced by specific players in their squads.  Next, is the ideal starting line-up (plus an honorable few) of the Liga MX up to Week 9:
Follow me on Twitter @kevtorres123!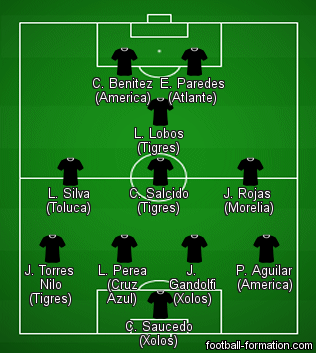 BENCH:
1. Luis Michel (Chivas) – GK
2. Diego Novaretti (Toluca) – DF
3. Joel Huiqui (Morelia) – DF
4. Severo Meza (Monterrey) – DF
5. Carlos Peña (Leon) – MF
6. Jesus Zavala (Monterrey) – MF
7. Darwin Quintero (Santos) – FW
Coach: Antonio Mohamed (Xolos)
GK – Cirilo Saucedo (Xolos) : The Club Tijuana goalkeeper has been phenomenal game-after-game with saves that have not only allowed Xolos to receive a few goals, but also to allow them to be just one goal away from first place Toluca.
RDF – Pablo Aguilar (America) : The America defensive winger finally is playing well after moving to 'coapa'.  His top form pushed Efrain Juarez to a different position and more importantly, his confidence in the attack has allowed America to score 15 goals.
DF – Javier Gandolfi ( Xolos) : The Xolos captain, is the leader of Tijuana's strongest and most influencial line. With his defensive abilities, Tijuana has been able to play a good counter-attacking system which has put them on top of the Liga MX table.
DF – Luis Perea ( Cruz Azul) : The ex-Atletico Madrid star is in his first season in Mexico.  He plays an aggressive defensive style which at times causes many yellow cards, but his scheme has rubbed on his fellow defenders.  Cruz Azul lacks goals, but its defense is top form and one of the best in the league.
LDF – Jorge Torres Nilo (Tigres) : He has been a regular starter for Tigres and the Mexican national team due to his good form week after week.  This is a good player with great defensive and crossing abilities.
DMF – Carlos Salcido (Tigres) : Salcido is one of Mexico's most talented players both in the Liga MX and in the national squad.  This player has great speed, good passing, a decent distance shot, and most importantly, he recovers the ball all througout the field.
RMF – Joao Rojas (Morelia) : This speedster is a counter-attack's best friend.  Rojas has Eurupean caliber talent and he has demonstrated season after season that he has the playmaking ability to change the games in his team's favor.  Rojas has become his teams offensive leader with assists, goals, and goal scoring opportunities.
MF – Lucas Silva (Toluca) : The ex-Puebla player seems to have found his home in Toluca.  With a soon-to-retire Sinha, Silva has become a very important component of Toluca's center midfield.  And to make things better, he is a threat inside the box which has allowed him to score 4 goals thus far into the season.
OMF – Lucas Lobos (Tigres) : Undoubtedly the Liga MX's best attacking midfielder, Lobos is tied for the league's top goal scorer with 6 goals.  This player has great agility, a great pass, scores goals, and is the team's captain; just the complete player.
FW – Esteban Paredes (Atlante) : Paredes is enjoying his first season in Mexico by being tied as top goal scorer with 6 goals.  He plays in a team that is based purely on defense, therefore having scored that many goals with few opportunities is impressive.  Most importantly, his goals have allowed Atlante to surprise all and to be fighting for a playoff position.
FW – Cristian Benitez (America) : This is the best forward in the Liga MX, and undoubtedly one of the best in the whole Western hemisphere.  Benitez is a playmaker, a counter-attacker, a poacher, a speedster; well you get the point. He has six goals thus far and various assists, and those numbers will increase as the season gets older.