Week 9 of the Liga MX was a week with six ties, low amount of goals, and a few changes in the regular season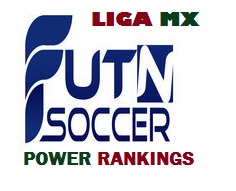 standings.  Top teams, Toluca and Xolos are tied on top of the table with 20 points (Toluca has a higher goal difference), while lower squads like Jaguares and San Luis are beginning to show signs of life.  We are halfway through the season and it is still extremely difficult to predict who will be the eight teams to be in the playoffs.  With eight weeks left, we can say that only four teams are clearly out of the picture.    Please enjoy our Week 9 Liga MX FutnSoccer Power Rankings, and don't forget to leave comments below or on Twitter @FutnSoccer!
Follow me on Twitter @kevtorres123!
1. Xolos – Club Tijuana has not lost in seven games, and they were close to obtain a win this week against Atlas, but three cross-bars prevented this.  Xolos has not let down, and this is a team that will undoubtedly be in the postseason.
2. Toluca – After a negative streak of three straight games without a victory, the team lead by Enrique Meza finally won a game with good defense and a better midfield.  Along Xolos, Toluca is a favorite to end the season in first place.
3. America – The team from 'coapa' currently sits in 5th place of the standings, but this is a team that has had three straight games against top teams (Toluca, Santos, Cruz Azul) and they were able to at least obtain one point from them.  America has had one of the toughest schedules this far into the season and with a series of easier games to come, this is a team that will be in the top positions.
4. Monterrey – Monterrey has not lost since Week 2, and has won three of the past four games.  Although through nine weeks Monterrey has only played two top teams, this is a team that has played better week after week.
5. Leon – In the past four games, Leon has won only one while losing two.  The offense, which is this team's best weapon, has lagged, but this is still a team that controls the ball and attacks throughout the game.
6. Cruz Azul – Cruz Azul has been a regular squad that has yet to reach its top form.  We do not know if they will get to that point this season, but this team has not won in three weeks. Regardless, they have a wonderful defense that has only allowed six goals (but an offense that has made seven).
7. Morelia – Like Cruz Azul, Morelia is passing through a bump, and they have not won any of their last three games.  The offense of this team is beginning to look weak, but it has the talent to get back on track, especially since they are only three points away from the 3rd place team.
8. Tigres – Tigres is playing better, is currently in a playoffs spot, and its three next games are against Mexico's weakest teams.  This is a team that will quickly escalate positions in the standings.
9. Atlante – Atlante has lost two in a row, and the magic Ricardo Lavolpe put in this team now seems to be disappearing.  Do not expect to see this team in the playoffs.
10. Santos – Maybe the most irregular team in the Liga MX, Santos will play a wonderful game one week, and then the next lose or tie against a poor team.  Mentality in this squad may be in shambles, but this team is very talented and is still one of the favorites for the title.
11. Atlas – They played a wonderful first half against Xolos, but played with eight defenders in the second which cost them the win.  This team has a very good defense, and a solid midfield, but there seems to be a problem with finding scoring plays.  At the end, goals make the difference and not scoring will cost them to be on the top positions.
12. Pumas – Fan-hated Americanista Mario Carrillo obtained his first point as Pumas UNAM coach.  Pumas has the ability to turn things around quickly, and a set of victories will put them in playoffs position.
13. Chivas – Chivas has not lost in three games, and the team is playing better overall.  Although still in the fight for a postseason spot, they still have to improve on the injury stricken offense.
14. Pachuca – Is it time for Hugo Sanchez to leave the most talented squad in Mexican soccer?  Pachuca should be fighting to be on top of the league, but nothing is going their way.
15. Jaguares – Jaguares has definitely improved in the past couple of games.  A better offense and most importantly a much better defense.
16. San Luis – Great win against talented Pachuca to make it into a two game winning streak.  Things look different now that Alex Aguinaga coaches this squad.
17. Puebla – This team is playing better under Daniel Guzman, but they are still far in talent and far in quality than the rest of the teams in the Liga MX.
18. Queretaro – They scored two goals this week…and then lost.  Next week they play against Mexico's top team Xolos.