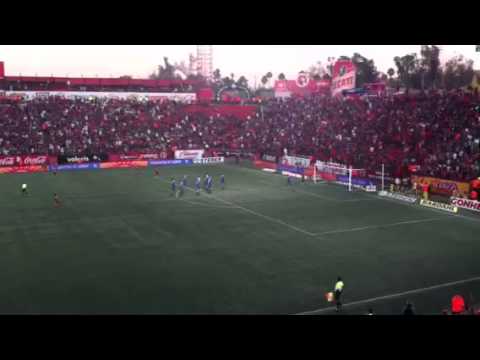 When Xolos de Tijuana joined the Liga MX (Mexico's top soccer league), back in the Fall of 2011, they were known for three things:
Crazy fans that celebrate by showering beer onto their neighbors
[youtube lF6xx-RR-sI]
[youtube JwyjGXMaxZ4]
And the view from the pitch, looks like the freakin' Bellagio!
[youtube W9-MPZiB73w]
I personally went to 17 of these games at the Estadio Caliente, and came out soaked and reeking of beer many times. This peculiar beer-throwing celebration is fine for a minor-league team that was usually attended only by hardcore soccer fans (i.e. young males). However, when Xolos moved up to Mexico's top league, the ticket prices skyrocketed and turned away most of its original fan-base. More and more families starting attending the games. Complaints starting coming in when children, mothers, and grandparents were coming out of the games soaked with beer.
To further aggravate things, fans not only threw beer, but anything they had on hand: soda, cups, churritos (kind of like nachos), etc. And whoever had the bad luck of wearing the opponent team's jersey when Xolos got scored on was treated with several cup-fulls of beer thrown directly at him.
One year after joining Mexico's top league, Xolos ownership decided to ban the beer-tossing tradition. It's sort of sad to see an awesome tradition end, but the decision is understandable. Beer-throwers are now kicked out of the match. If caught a second time, they are at risk of losing their season-pass (which is a big deal, as Xolos have sold out around 95% of their home matches).
This is how Estadio Caliente looks now when Xolos scores a goal:
[youtube CF1HE_8A1Qw]
Xolos is undefeated at home after establishing the ban, and currently find themselves in first place of the Liga MX. What crazy celebrations have you experienced?