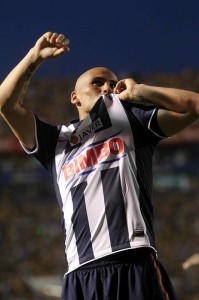 In the Estadio Tecnologico, Monterrey will look to begin a winning streak when they face last place Queretaro this Saturday, September 22, 2012 (8:00 PM EDT).  The Monterrey vs. Queretaro 2012 is a match between two very different teams that are playing for two different reasons.  While Monterrey began the season in weak form, now it seems results are going their way and a win against Queretaro would put them deeper into playoffs territory.  Meanwhile, Queretaro is a team that was doomed for failure prior to the Apertura 2012 of the Liga MX.  Against Monterrey they will play to obtain at least a point which would allow them to stay in shape for the relegation battle.
Although Monterrey sits in 7th place of the regular standings and is in playoffs position, their form this season has been a rollercoaster because they have not been able to obtain good results consistently.  Last week against Puebla they won 3-2 in a match which became more difficult than expected, and by facing last place Queretaro, the 'rejios' could have their first two game winning streak of the tournament.  In order to win, Monterrey has to take advantage of the superior talent they have over Queretaro.  The defense has been decent by receiving eight goals, but the offense (which is this team's best weapon) has scored a poor ten goals.
Queretaro is having the worst season no other team has had in recent memory of Mexican soccer.  Through eight weeks, they have only managed to obtain two ties, while losing the rest.  The offense is not first division quality (has scored 3 goals) while the defense has received 15.  In other words, the Gallos Blancos have a poor squad that is not worthy of the first division.  This team already fired its first coach – Carlos De Los Cobos – and with Sergio Bueno they were able to obtain a tie.  This team is a strong candidate to win the relegation lottery, but a win against Monterrey would allow them to at least battle until the end.  A win at the Tecnologico will be difficult but if they play with a strong defense and on the counter-attack, they could manage to stop opposing players like Cesar Delgado and Angel Reyna.
Prediction:  Monterrey has not lost in three games and it is finally getting to top form.  Queretaro may play better under a new coach, but their disastrous form is to be blamed on the talent of this squad.  The Monterrey vs. Queretaro match should be easily managed by the home team.  The score will be Monterrey 3-0 Queretaro.
Television:  The Monterrey vs. Queretaro match will be shown this Saturday, September 22, 2012 at 8:00 PM EDT on Univision Deportes.