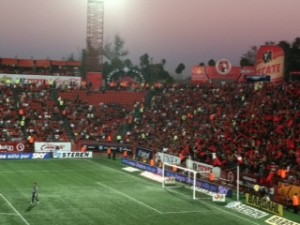 Current Liga MX first place team, Xoloitzcuintles de Caliente face Atlas in a match where a win could put Club Tijuana closer to a playoff position.  The Week 9 game which will be played Saturday, September 22, 2012 (10:30 PM EDT) at the Estadio Caliente, will be a test for Xolos who want to prolong an extraordinary perfect home record where they have won four out of four.  Atlas has not been successful thus far, as they only have nine points and sit 13th in the regular standings.  Under new coach Tomas Boy, Atlas has tied one and lost one, therefore Boy will have a difficult contest in the border city to win his first three points.
After eight weeks of Liga MX soccer, Xolos has been a key figure in this tournament by earning nineteen of twenty-four possible points, and holding a strong grip of first place in the standings with a six point advantage over the 3rd place team.  Tijuana is a strong squad that is very well coached by Antonio Mohamed, and the key for their success has been a good defense, but a stronger midfield that plays on the counter-attack.  Although they have a ten-point difference over Atlas, Xolos cannot let their guard down because they face a team that has only received five goals in eight games.  In order for Xolos to win, they need to keep on playing a smart counter-attacking game where forward Duvier Riascos leads the attack with his great speed and playmaking abilities. With a win against Atlas, and another win next week against Queretaro, Xolos could have a total of twenty-five points with seven games left into the season; that would be a remarkable record for a team that has not even been in the first division for two years.
The team led by Tomas Boy will have a difficult game because they play in a stadium where the local team has not lost.  Atlas faces a great defense which will be a problem because the 'rojinegros' have a weak offense that have only scored seven goals.  Atlas will look for its first victory under coach Boy and to accomplish this they will have to play at their top form.  Forward Hector Mancilla has to take advantage of the few scoring opportunities given to him, and these may come in the form of set pieces.  Tijuana plays a tight defense, and since Atlas lacks a top-class playmaker, creating many scoring opportunities will be difficult.  Moreover, their leader in the defense, Leandro Cufre, is injured and will miss the match.  This can cause damage to a strong back-line, but the defense is also Atlas's best line, therefore it should not be a huge loss.
Prediction:  Atlas has the pressure to earn three points because their season is not yet lost.  On the other side, Xolos is relaxed in the sense that if they play the way they have been, good results will continue.  Xolos is the better team in all sides of the field, and the most Atlas can hope for (if Xolos plays at their top form) is a tie.  Streaks – good and bad- always end, and while Xolos has a perfect streak at home, the team is playing wonderfully.  Therefore, that streak will continue at least until this week, and with the help of a packed stadium the three points will go to Tijuana.  The score will be Tijuana 1-0 Atlas.
Check out the rest of Week 9 TV schedule!
Television:  The Xolos vs. Atlas game will be shown on Univision Deportes this Saturday September 22, 2012 at 10:30 PM EDT.