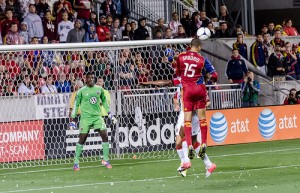 Tauro and Real Salt Lake will face each other this Tuesday, September 18, 2012 at 8:00 PM EDT at the Estadio Rommel Fernadez in Panama City, Panama.  With zero points, Tauro is last in Group 2 of the CONCACAF Champions League and is in desperate need for a victory.  With the new format where only the first place of the three-team group qualifies for the next round, Tauro has a low probability of winning the group.  On the other side will be MLS's Real Salt Lake who sits in second place, three points behind the leader, Herediano.  Real Salt Lake is in a must-win situation where a tie signifies the end of their journey in the CCL.
The Panamanian team, Tauro, is having a good season in their nation's league, however, this has been the same in the CCL.  While receiving three goals, and scoring none thus far into the tournament, Tauro shows they do not have sufficient talent to fight for a chance in the CONCACAF tournament.  The game against Real Salt Lake will be a tough contest because they not only face a superior team, but they face a team who is under pressure to secure a victory.  The Panamanian squad will have the support of its home crowd, but it will be difficult to have a successful match against a team who they previously lost to, 2-0.
Like Tauro, Real Salt Lake is not having the best of tournaments.  While they won the game against Tauro, Real Salt Lake lost against group leaders Herediano which puts them in a difficult position to win the group.  The MLS squad will have all the pressure to come out of Panama with nothing else other than a victory as this team puts a lot of focus and importance into the CCL.  Costa Rican striker, Alvaro Saborio, will lead the team which will have a tactical scheme which will depend purely on offense.  While this can lead to Tauro counter-attacking, it is the best bet Real Salt Lake has for a win.
Prediction:  Tauro is now in this competition for the ride.  They will have the home advantage against Real Salt Lake, and their best attempt for a victory will be by counter-attacking.  Real Salt Lake's tactical offensive scheme will allow for this to happen, however, the team from Utah has the talent and the pressure to win.  A win will tie them with group leaders Herediano, while anything else would endanger their pass to the next round.  The score will be a 3-1 victory by Real Salt Lake.
To see the rest of the CCL television schedule click here!
Television: The Tauro vs. Real Salt Lake match will be shown this Tuesday, September 18, 2012 at 8:00 PM EDT on FOX Soccer Channel, and Univision Deportes 2.