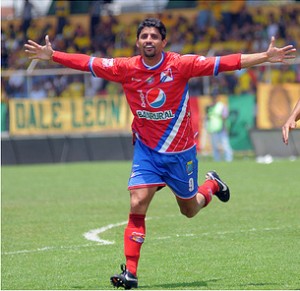 Xelaju of Guatemala will host W Connection, Trinidad & Tobago's Pro League champion, on Tuesday, September 18, 2012 (10:00 PM EDT) at Estadio Mario Camposeco in Quetzaltenango. Xelaju will be looking to obtain a key win, which would put them four points ahead of Mexican side Chivas (the preseason favorite to win Group 8 of the CONCACAF Champions League). Will Xelaju defeat W Connection and take a big step towards winning Group 8?
Xelaju last defeated Mexican giant Chivas 1-0 when they played in Guatemala. Now Xelaju has a chance to stay four points ahead of their Group 8 Mexican rival by obtaining a win against W Connection (and in the process eliminate the Trinidad & Tobago based team from the tournament). W Connection is not to be taken lightly, they were a couple of minutes away from defeating Xelaju when they played in Trinidad & Tobago back in August.
However, Xelaju has several things going in their favor. For one, they are coming off a historic victory over Chivas, a win that certainly must have had a positive effect on the squad. Quetzaltenango is located over 2,400 meters above sea level, an elevation, which should have an adverse effect on the visiting W Connection squad. Finally, having the home crowd and the knockout stage within their sight should provide plenty of incentive for the Xelaju players (it is also reported in the Guatemalan press that the Xelaju owner will offer a monetary prize for a victory).
W Connection needs to win its next two games to have a chance at making it to the next round of the CONCACAF Champions League. They will be playing for their tournament life against Xelaju and won't go out without a fight. Unfortunately, Caribbean squads don't have good record when traveling abroad, and the match against Xelaju is unlikely to be the exception. However, the W Connection squad has been in Quetzaltenango for the past week getting used to the high altitute (it helps that their league hasn't started yet); they are not taking this game lightly.
Possible Lineups:
Xelajú: Fernando Patterson; J. Girón, Fredy Tylor, Alex Cifuentes, Julio Estacuy, Edwin Villatoro, Kevin Eduardo Arriola, Manuel León, Sergio Morales, Israel Silva and Édgar Chinchilla.
W Connection: Jan-Michael Williams; Daniel Cyrus, Gerard Williams, Kern Cupid, Leslie Joel Russell, Christian Viveros, Joevin Jones, Clyde León, Hachim Arcia, Stefano Rodney Rijssel and Shahdon Winchester.
Prediction: Xelaju has a very legitimate chance of winning Group 8, and they will not pass on a great opportunity for a win at home against a weaker rival. W Connection will try to fight it out, using their speed and physical strength, but in the end Xelaju will finish with the win. The score will be Xelaju 2 – W Connection 1.
Television: The Xelaju vs W Connection match will be shown on Univision Deportes, CONCACAF TV and Fox Soccer 2Go, Tuesday, September 18, at 10:00 PM EDT.