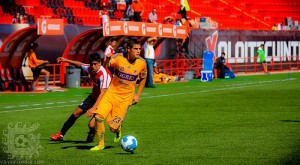 The Tigres vs Cruz Azul game on Saturday, September 15, 2012 at 8:00 PM EDT at the Estadio Universitario will have a desperate Tigres looking to stop its five game win-less streak. Tuca's squad hasn't won a game since Week 2, and it can't continue this streak if it wants to stay in the playoff race. Cruz Azul, on the other hand, is having a great season, and is the only Liga MX team that remains undefeated. Which streak will end today, Tigres' or Cruz Azul's? (yea, I know both can continue with a draw).
After getting wins in week 1 and week 2, Tigres has gone on a five game win-less streak, having lost two and tied three. Most shocking for a Tuca coached team, is that Tigres' defense has been quite bad, allowing nine goals in seven games (in the past three seasons, Tigres has averaged less than one goal allowed per game). Tigres' offense has been good, scoring 11 goals so far; this team's struggles are definitely related to their defensive mistakes.
Tuca has been continually coaching, without a break, for 20 straight years, he clearly knows what he is doing. I am fully confident that he will find a way to make Tigres start playing good defense again; after all, it is basically the same squad that won a championship a year ago and was seconds away from disputing another final last season. The week off due to the FIFA match days must have been a perfect space to let Tigres remember how to play defense well again.
Cruz Azul is the only undefeated team left in the Liga MX, with three wins and four ties. Cruz Azul has achieved this primarily based off of their intense defense, which has only allowed three goals in seven matches. Their only weak spot is their somewhat ineffective offense, which is averaging less than one goal per game. Memo Vazquez has done an excellent job restructuring the playing style of his team, basing his strategy off a strong defense. However, I believe that their struggles up front will cost them against Tigres.
Prediction:  Tuca will rally his players and get an important win at home. Cruz Azul has been struggling to score all season long, and today will not be the exception. Tigres takes a slim lead and keeps it through the game.  The score will be Tigres 1-0 Cruz Azul.
Television: The Tigres vs Cruz Azul game will be shown on Univision Deportes Network, this Saturday, September 15, 2012 at 8:00PM EDT.  Which is just terrible for people without Dish or U-verse…