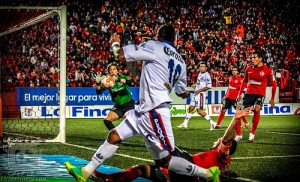 The Atlante vs. Xolos of Tijuana game on Sunday, September 16, 2012 at 7:00 PM EDT at the Estadio Andres Quintana Roo is between two playoffs contenders with outstanding defenses.  Atlante, coached by Ricardo Antonio Lavolpe, has arguably the best defense thus far into the Apertura 2012 of the Liga MX because with a squad lacking top talent, it has managed to put itself momentarily on a 'liguilla' position.  On the other side of the field will be Xolos who are also surprising many this season because they are playing in top form week after week and are currently in second place of the regular standings.  This match will be between two good squads with great defense, but most importantly, it will be between two Argentinean coaches (Antonio Mohamed being the other) who have done the best job this season in leading their teams to success.
Atlante currently finds itself in 6th place of the regular standings, but due to Leon's 2-1 loss to Chivas, they now have the possibility to escalate positions with a victory.  Although Atlante has not scored many goals (8), its defense has made the difference in their recent success.  Atlante likes to play with the possession of the ball, meaning they move up the field with short passes rather than long centers. This has allowed Lavolpe's team to have the midfield focus of recuperating the ball, and to not get defeated on the counter-attack.  In order to beat Xolos, Atlante will have to take advantage of the set pieces, wonder goals, or defensive mistakes because just like Atlante, Tijuana plays a counter-attack scheme.
Club Tijuana has been more than magnificent this Apertura 2012 considering their lack of offensive players.  Disregarding the game against Leon where they received four goals, the Xolos defensive line has forced opponents to four shutouts in seven games.  Most importantly, this team has also scored a reasonable amount of goals (10) which have come mostly from good counter-attacks and set-pieces.  In order to defeat Atlante, Xolos has to play with the same style as the previous games.  This is with a midfield that plays along the defense, and with striker Duvier Riascos who uses his speed to gain ground on the opponents on the counter-attack.
Prediction:  The Atlante vs. Xolos game will be a tight match between two defensive squads who are well-trained.  There will not be much breathing room for either side, but at the end of the day the team with the better talent will win.  I do not see Xolos making any costly mistakes, and they will take advantage of any scoring opportunity given to them.  The score will be Xolos 1-0 Atlante.
Television: The Atlante vs. Xolos game will be shown on Univision Deportes Network, this Sunday at 7:00PM EDT.  Just unfortunate to all the fans without AT&T or Dish.