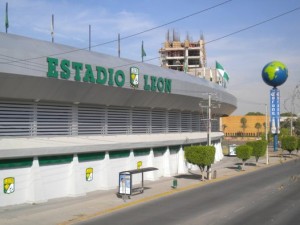 Now that the small CONCACAF World Cup qualifiers intermission is done, the Liga MX gets back to action.  Although there are several games-to-watch this weekend, the Leon vs. Chivas of Guadalajara match will cause the most excitement to all fans-alike; first, because Leon will get to see Chivas play at the Estadio Nou Camp for the first time in ten years, and second, this will be the first time this season everyone can watch Leon play at home from their televisions.  The match, which will be this Friday, September 14, 2012 at 10:30 PM EDT, is between a Leon squad who has surprised all with prime performances, and Chivas whose nose dive continues.
Leon is currently 3rd in the standings with thirteen points-four less than the leading Toluca- and also have the best offense in the league with fourteen goals.  There will be excitement in the home crowd because not only does a victory put the 'panzas verdes' closer to a playoff position, but they get to see Mexico's most popular team play at their stadium.  This sentiment is similar to Xolos of Tijuana fanatics a year ago when they were able to see Chivas play at the Estadio Caliente in an official match for the first time in their history.  Therefore, although already one of Mexico's most sonorous crowds, the attendants will cheer to their top of the lungs for Leon to use their tremendous offense to score and beat Chivas.  Leon has a good opportunity to gain three points because they face a team who is low on the regular standings, and who does not score very often.  Nonetheless, Leon does not have the best defense, but their offense scores game after game, and that could be the game maker at the end of the day.
Chivas of Guadalajara is having a year completely contrary to Leon.  While Leon is enjoying their promotion to the first division, Chivas's 106 years of history have not allowed them to be the dominant, elite team expected of them.  Empty stadiums, low amount of goals, poor results, injuries, and a drop in fan-base sees this team at the bottom positions of the Liga MX.  With only six out of twenty-one possible points, Chivas is in 14th place with only five goals, and sadly, is quickly dropping away from another playoffs.  The game against Leon will be difficult for Chivas because they face a great offense, and a team that pressures at every line.  In order for Chivas to win or at least take a point away from the Nou Camp, they will have to play an extremely smart defensive game which constitutes Hector Reynoso not making any costly mistakes.  If the defense plays well, Chivas will have more breathing room to allow Marco Fabian to lead the counter-attack which could lead to scoring opportunities.'
Prediction:  The game between Leon and Chivas is not the game of the week on paper because it is between a team from atop of the table against one on the bottom positions.  However, this game will be the most exciting to watch because the Estadio Nou Camp will have a tremendous crowd that night which will provoke the Leon players to push themselves harder to beat Mexico's most popular team, Chivas.  This will be a game with a lot of attack from Leon, and counter-attacking by Chivas.  Therefore, although Leon will control the ball, they will focus too much on the attack while leaving holes in the defense for Chivas to take advantage of.  The final score will be an exciting 2-2 tie.
Television:  This will be the first Leon home game to be shown on television and on the internet.  In the USA, Telemundo bought the rights for Leon games, and in Mexico MedioTiempo.com (online) and FoxSports Latin America will shown them.  The game will be seen this Friday, September 14, 2012, at 10:30 PM EDT, on Telemundo.
Notes:  Chivas striker Carlos Fierro is out of this game due to an illness, and will be replaced by Erick Torres in the starting lineup.