Pumas will host San Luis at Estadio Olimpico on Sunday, September 16th at 10:00 AM PST as part of week 8 of the Apertura 2012 Liga MX.
Pumas, new coach, new attitude
Pumas comes from releasing head coach Joaquin Del Olmo after only six games, and now they have placed Mario Carrillo at the helm. Carrillo was Hugo Sanchez' assistant when Pumas was champion two consecutive times in 2004, this lets us know that Carrillo is no stranger to the environment that is felt at the Cantera. However, many fans are not happy, given that Carrillo, after all, was responsible for taking Club America in 2005 to a Championship and ever since has been somewhat loyal to the yellow and blue colors.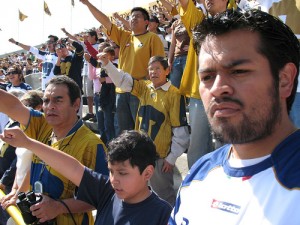 For the next match Pumas will need to show Carrillo's style, they have had over a week for training due to FIFA's qualifiers and they should be adapted. Quite frankly, many of us do not know what to expect, Carrillo is not known for an aggressive style but rather a conservative, defending game. This perhaps is not what fans are waiting for and it is understandable being that the roster has names such as Villa, Garcia and Bravo in the front.
San Luis: Aguinaga's hope to succeed
San Luis is in no better situation than Pumas, also with a new coach though with a couple of games more. Alex Aguinaga took Jose Luis Trejo's position, in order to take a team with no hope and no clear style of game and save them from descending the division.
San Luis has a tough situation, they have to keep accumulating points so that they can stay in the Liga MX, their situation is not as extreme as Gallos Blancos or Atlas, but if any of the other teams has a comeback and San Luis does not, they may be the ones who lose the category.
Prediction: Usually both these teams, when playing each other, are quite uneventful and don't put up an exhibition of good soccer. However, hopefully, being that both come from a similar situation of wanting to show improvement, will play aggressively and will always be looking to play in the front line. Pumas has the upper hand being local. Villa is getting on a roll scoring. My prediction is that Pumas keeps the three points at home with a score of 2-0.
Television: The Pumas vs San Luis match will be televised on Univsion this Sunday, September 16th at 10 PM Pacific.