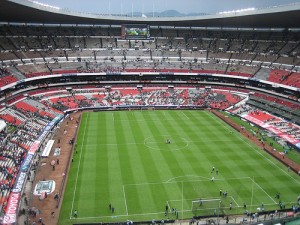 On Tuesday, September 11, 2012 at 9:00 PM EDT, Mexico will play Costa Rica at the Estadio Azteca in what would put Mexico into the next round.  These two teams recently played each other last Friday, September 7, in a game with a lack of offensive productivity, but where Mexico was able to attain the three points after two corner kicks.  With the loss at home, Costa Rica put itself in an uncomfortable situation because a second straight loss and an El Salvador win would put them in third place of Group B, and momentarily out of the last round.  Mexico has all the advantage to win Tuesday's game, and Costa Rica will have to use all in its power and even a little extra to come out of Mexico with a positive result.
The 'tricolor' is still without its playmaker Giovani Dos Santos, and his absence was noticed in San Jose because Mexico lacked from scoring opportunities as there was no attack down the middle of the field.  Nonetheless, Andres Guardado played an excellent match, while Javier Aquino was a threat all game down the right wing.  Mexico has a secure defense, with good attacking wingers, but to score on non- set piece plays, Javier Hernandez will need to finish the few scoring opportunities given to him.  Mexico may miss Dos Santos, but this is a very well coached team, with possibly the best talent it has ever had, therefore a victory should not be a problem while playing at the always difficult, Estadio Azteca.
Unfortunately for Costa Rica, the absence of their best player Bryan Ruiz was greatly seen in Friday's game against Mexico.  They had few scoring opportunities but all from long-distance shots.  Ruiz will also be out for Tuesday's game as he has not recovered from his injury, therefore Costa Rica will still play without the best playmaker.  In order for the 'ticos' to obtain at least one point from the Azteca, they will have to be productive in the offensive side.  This is a very difficult task, especially against a strong Mexican defensive line, but Costa Rica will only score by pressuring.  Offensive pressure can lead to Mexican defensive mistakes and set-pieces which would allow Costa Rica with scoring opportunities.
Click here to view the latest CONCACAF WCQ standings
Prediction:  Costa Rica's lack of offense was prevalent throughout Friday's game against Mexico, and in the Estadio Azteca, scoring will be even more difficult.  Mexico is good squad, and when playing at home they have only lost once in the qualifiers which was against Costa Rica in 2001.  However, this time around the 'tri' has a much more talented squad, with players like Chicharito who can make a difference any given play.  On Tuesday, Mexico will secure their pass to the final round of the CONCACAF World Cup qualifiers. The score will be Mexico 3-1 Costa Rica.
Television: The Mexico vs. Costa Rica game will be shown on Univision, Tuesday September 11, 2012 at 9:00 PM EDT.