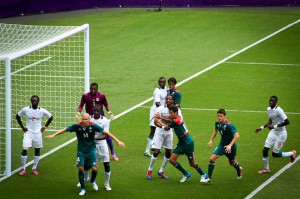 The Mexican national team has a set roster for the two games against Costa Rica in the CONCACAF World Cup Qualifiers for Brazil 2014. Mexico is currently is first place of Group B with six points after two matches played. Although the tricolor is clear favorites to win the group, Costa Rica will have to battle with El Salvador for the number two position; Costa Rica is in second place with four points, three above El Salvador. The games between Mexico and Costa Rica will be difficult and the best in the week, and if Mexico obtains at least four points, they will likely secure a spot in the final round. For the games to be played September 7th (10:00 PM EDT) and 11th (9:00 PM EDT), Jose Manuel De La Torre chose the following 23 players:
Goalkeepers: Jesus Corona (Cruz Azul), Guillermo Ochoa (Ajaccio), Alfredo Talavera (Toluca)
Defenders: Darvin Chavez (Monterrey), Hugo Ayala (Tigres), Severo Meza (Monterrey), Israel Jimenez (Tigres), Hector Moreno (Espanyol), Jorge Torres Nilo (Tigres), Hiram Mier (Monterrey), Francisco Rodriguez (Stuttgart)
Midfielders: Gerardo Torrado (Cruz Azul), Jesus Zavala (Monterrey), Carlos Salcido (Tigres), Javier Aquino (Cruz Azul), Gerardo Lugo (Santos), Andres Guardado (Valencia), Elias Hernandez (Tigres)
Forwards: Oribe Peralta (Santos Laguna), Angel Reyna (Monterrey), Javier Hernandez (Manchester Utd), Aldo De Nigris (Monterrey), Marco Fabian (Chivas)
Who's Out: One player which was initially on the roster list but who unfortunately had to be taken out is winger Pablo Barrera. The rapid player suffered a severe knee injury this weekend in a Cruz Azul game and the diagnostic is he will miss up to six months after having knee surgery. As a regular starter for Mexico, he will need a replacement in that position which will most likely be gold medalist and Cruz Azul teammate, Javier Aquino. Two other players who are not on this list again are Carlos Vela and Jonathan Dos Santos who have refused time after time to play for the national team. Finally, prolific new Mallorca signing, Giovani Dos Santos will also miss this match due to the injury he received in the gold medal final against Brazil. Without Barrera and Giovani, the Mexican offense will lack the speed and playmakers coach De La Torre depends on, but these roles can be adequately taken by Andres Guardado, and even Marco Fabian who have the talent to lead Mexico into victory.
Players to Watch: There are seven new players to this roster which could be regulars from now until the 2014 World Cup. 'Chepo' called the London 2012 gold medal winners and excluding Jose Corona, Carlos Salcido, and Oribe Peralta, the seven young players will be interesting to watch for the two games against Costa Rica. The two players that can make the most difference are Javier Aquino who will get playing time due to Barrera's injury, and Fabian who has extraordinary talent.
Roster Analysis: Mexico has severe losses with the injuries of Dos Santos and Barrera, but this team has enough talent from the more experienced players, and thirst from the younger gold medalists to gain at least four points from the games against Costa Rica. The goal is well secured by Corona, while the back-line will be defended by 'Maza' Rodriguez, and Hector Moreno. The question arise in the midfield, but Mexico will choose a 4-4-2 formation meaning Salcido, Eduardo Zavala, Guardado, and Aquino will cover this line. The strongest side of Mexico is the offense, as it will be very interesting to watch Chicharito and Peralta in the attack together. This roster will win in the Estadio Azteca on Sunday, but the real question is how it will respond to a tough Costa Rican side in San Jose.