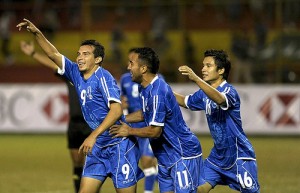 Please click here for the article on the September 11, 2012 match between Guyana and El Salvador
El Salvador must defeat Guyana when they play on Friday, September 7, 2012 at 9:30 PM EDT at El Cuscatlan in San Salvador, if it wants to move on to the final hexagonal round. Guyana is the Group B minnow, expected to lose all of its matches, it has played the part by losing its first two matches by a combined score of 1-7. El Salvador not only needs to win, but it also needs to pile on the goals, as that could play a decisive role in Group B standings. Will El Salvador be able to pile on the goals (the win is guaranteed)?
Group B's first spot is reserved for Mexico, they will end up in first place without a doubt. Guyana is just enjoying the ride, they have no chance of progressing to the next round, they are simply here to sight-see and try to spoil another team's chances. This leaves Group B's second spot contested between Costa Rica and El Salvador. The home-and-away series between these two teams is absolutely pivotal and will decide who moves on. El Salvador already did the difficult task of drawing 2-2 away at Costa Rica. Back to back wins against Guyana, and a home victory against Costa Rica will see them through (barring any weird results between Costa Rica and Mexico).
El Salvador has everything on hand to win this match against Guyana, the home crowd, a more talented team, and the necessity of victory. Guyana simply doesn't have the soccer level it takes to compete against professional soccer players. Furthermore, El Salvador has only one point, a win against Guyana coupled with a Mexican victory at Costa Rica would pull Costa Rica and El Salvador even in points: Guyana is a must-win for El Salvador.
El Salvador roster: Dagoberto Portillo, Benji Villalobos, Carlos Romeo Monteagudo, Dennis Alas, Isidro Gutiérrez., Osael Romero, Elder Figueroa, Alexander Larin, Ramon Alfredo Sanchez, Eliseo Quintanilla, Nelson Bonilla, Christian Castillo, Alfredo Pacheco, Darwin Cerén, Steven Francis Purdy, Víctor Turcios, Herbert  Sosa, Mark Lester Blanco, Jaime Alas, Rafael Burgos, Milton Molina, Ricardo Ulloa, Xabier Garcia, Jonathan Aguila Joya, Derby Carillo, Yimi Cuellar, Irving Valdez, Julio Martínez, and Omar Mejía
Prediction: El Salvador was able to get an away point from Costa Rica, and played Mexico tough at home, even though they did end up losing. El Salvador is a tough team that will not let the three vital points against Guyana slip by. El Salvador will pile the pressure on and pile on the goals. The score will be El Salvador 4 – Guyana 1. 
Television: The El Salvador vs Guyana game will be shown on DirecTV by Pay-Per-View this Friday, September 7 at 9:30 PM Eastern.
Note: Can't wait for the El Salvador vs Costa Rica match in October, that's where the second place in Group B will be decided!