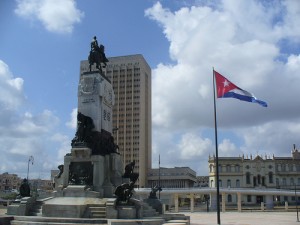 Please click here for the article on the September 11, 2012 match between Honduras and Cuba.

UPDATE: Just as I had predicted (see below), Honduras won the match 3-0. Goals from Bengston, Bernardez and Chaves. Key win for Honduras!
Cuba will host Honduras in a key match for the Hondurans on Friday, September 7, 2012 at 3:00 PM EDT at Estadio Pedro Marrero in Havana. Cuba is the weakling of Group C, and as so, Honduras must make sure that it extracts all of the points at stake. Cuba has lost both of its first matches, however, they have lost by one goal margins, Cuba is not a pushover. Does Honduras have what it takes to get a key win in Havana?
Honduras was proclaimed as the favorites of Group C, that is why everyone was surprised when they lost their opening home match against Panama 2-0. Hondruas recuperated in the second match, and came out of Canada with a valuable point that keeps them in contention.  Honduras is now in third place of Group C with one point, trailing Canada (four points) and Paname (six points). Honduras must make sure that it wins this away game at Cuba, as anything but the three points could leave them in a precarious position.
Honduras roster: Noel Valladares (Olimpia), Donis Escober (Olimpia), José Mendoza (Marathón), Arnold Peralta (Vida), Mauricio Sabillón (Marathón) Víctor Bernárdez (San Jose Earthquakes), José Velásquez (Victoria), Osman Chávez (Wisla Cracovia), Maynor Figueroa (Wigan Athletic), Juan Carlos García (Olimpia), Orlin Peralta (Vida), Roger Espinoza (Sporting Kansas City), Wilmer Fuentes (Marathón), Edder Delgado (Real España), Wilson Palacios (Stoke City), Jorge Claros (Hibernian), Boniek García (Houston Dynamo), Marvin Chávez (San Jose Earthquakes), Mario Martínez (Seattle Sounders), Emilio Izaguirre (Celtic Glasgow), Jerry Bengtson (New England Revolution), Roger Rojas (Olimpia), Robie Norales (Motagua) and Georgie Welcome (Motagua).
It is of notice that eight of the players in the Honduran roster played in the Olympic squad, a team which played well and nearly knocked out Brazil in the Quarter Finals. Furthermore, the team is full of foreign-based players, mostly European and MLS based. Honduras is filled with talent, on paper, it can be considered the strongest Central American team. I believe that the Olympic squad players will help solidify this team, and Honduras will avoid any embarrassing results against Cuba.
Cuba is a team filled with players that reside in Cuba, and thus have no exposure to a professional soccer experience. This puts them at a great disadvantage against other CONCACAF teams. In the previous matches, Cuba has demonstrated that it can defend well, but it simply has no options on the attack. Cuba can either tie a game 0-0 or lose the match. If Cuba holds off Honduras, it would be an upset of epic proportions.
Prediction: The Honduran squad simply has too much talent to lose against a semi-professional team. Honduras will get the job done in Havana and take the vital three points. The score will be Cuba 0 – Honduras 3. 
Television: The Cuba vs Honduras match will be shown on DirecTV by Pay-Per-View this Friday, September 7 at 3:00 PM Eastern.