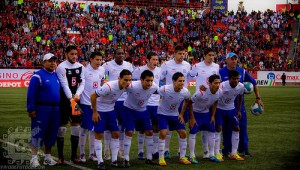 The Liga MX is taking a break this week to allow room for the CONCACAF World Cup Qualifiers in which Mexico will play Costa Rica September 7 and 11.  Seven out of seventeen weeks have been played, and we have Toluca leading the standings with seventeen points, with Queretaro being the clear favorite to win the demotion into the Ascenso MX.  However, into Week 7, we now have a clear view of Liga MX's best squads, and nonetheless, best defenses.  Therefore, what team has the best defense in the Mexican soccer league?
Right off the bat, we can count the lower ranked teams out of discussion due to the high amount of games the team has lost, and most importantly the goals they have allowed.  These teams are Jaguares (16 goals against), Queretaro (15), San Luis (12), Puebla (12), Santos (9), and Tigres (9; who had Mexico's best defense in prior seasons).  Teams that have not received many goals but that have lost several games are Pumas and Chivas.
The best defense in the Liga MX does not only need to allow few goals, but it needs to influence the direction of its team.  There are only a handful of defenses that play under these characteristics and the teams are Toluca, Xolos of Tijuana, Cruz Azul, and Atlante.
But why leave Leon and Morelia (who have only received six goals), or better yet Atlas (who has received five goals) out of the race? Leon has been superb in its first season back to the first division, but what has carried this team is its Liga MX leading offense (14 goals).  Leon's offense has been dominating, but that does not mean that Leon has the best defense.  Morelia's defense has also been great, but this is a team that has allowed five of its six goals in the second half.  Finally, Atlas has received only five goals which is the league's second best.  The problem with the 'rojinegros' is that like last season, Atlas cannot win many games.  This Apertura they only beat Tigres in the second week, but have failed to win games since.  Atlas does not possess the best defense because it has not changed the direction of the team into victories.
Now, time to decide the best defense in the Liga MX.  Toluca has received six goals in seven games, with only one shutout.  With a great defense led by Novaretti, Toluca has won five games.  However, the defense is not the strongest line of this team; it's the midfield.  The midfield led by Lucas Silva and Sinha have won Toluca's games by playing a balanced tactical scheme in which the whole midfield attacks, and defends.
Xolos of Tijuana is very similar to Toluca.  Club Tijuana has received seven goals, four of those against Leon in week 2.  However, through seven games, four have been shutouts by a defense led by Javier Gandolfi and Pablo Aguilar.  Let's not forget that last season Tijuana led the league with the least goals allowed, that Egidio Arevalo left the team, and that Cirilo Saucedo has been the best goalkeeper this season.  But like Toluca, the best line of this team is the midfield.  The midfield has played wonderfully under Fernando Arce because it plays the counter-attack. This allows everybody except forwards Alfredo Moreno and Duvier Riascos to play defense.
 Atlante has also allowed six goals with three shutouts.  The team led by Ricardo Lavolpe has already played three of the league's best offenses (Pachuca, America, Monterrey), and received three goals in those games.  What makes Atlante so good on defense is the coach.  Lavolpe sets an extremely defensive scheme with five defenders where control of the ball is essential.  The defense has been so good that it has put Atlante currently in 6th place and in playoff contention.
Finally, Cruz Azul leads the Liga MX with only three goals allowed and four shutouts.  Led by Colombian Luis Perea, the defense has been aggressive, productive, and most importantly, game-changing.  This team's offense has slacked into week 7, and with few goals scored (6), its defense has allowed the team to stay in the games and take from them at least one point.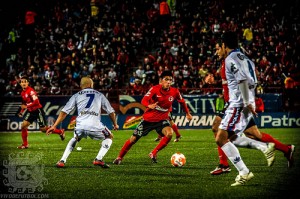 Best defense in the Liga MX:  Thus far, the league's best defense is Atlante, with Xolos and Cruz Azul being capable of taking the lead as the season progresses.  Atlante before the season began was not a clear playoff contender, especially with the average talent of its squad.  After Week 7, this team has been able to be in 6th place even after facing Pachuca, Tigres, America, and Monterrey early in the season.  They are currently on two games without receiving a goal, but next game they will face another difficult defense like that of Xolos.  Atlante has the best game-changing defense, but can it be strong enough to allow the team to reach the playoffs?