Liga MX leader Toluca will host a Club America team that will be looking to rebound from last week's home loss, when they play this Sunday, September 2, 2012 at 1:00 PM EDT at Estadio Nemesio Diez. Toluca heads the Liga MX with sixteen points, having earned five wins and one tie. Club America has a disappointing nine points earned in six matches, and a loss at Toluca would temporarily knock them out of the playoff spots. Does Club America have what it takes to douse the fiery Toluca and get an impressive away victory?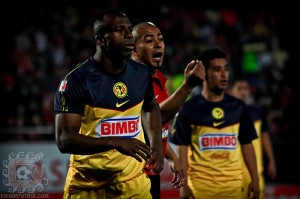 Toluca started the season on a five game winning streak, and were slowed down just a bit when they drew Tigres 1-1 in Week 6 action. Overall, Toluca has been very impressive, scoring eleven goals while only allowing five, playing consistently well in all of its matches. Last week they were the better team, but an always tough at home Tigres was able to pull out the draw. Toluca has shown no signs of slowing down, and barring anything unexpected (early red card, made-up penalty in favor of America, etc.), they will be an outstanding opponent to Club America.
Last week against Xolos at Estadio Azteca, Club America lost the match, even when the referee awarded them a very doubtful last minute penalty kick. Benitez took the penalty, even though he is not the official penalty taker, and missed in spectacular fashion. This led to Miguel Herrera publicly critizicing Benitez to the press, stating that Benitez would never again attempt a penalty kick for America. Essentially, in typical Club America fashion, Herrera took over this week's media by talking about the loss against Xolos (among other things). Has this media circus affected America's locker room? The match against Toluca will be a good test.
Club America has very similar goal stats to Toluca: they have also scored eleven goals, and they have allowed six goals, just one more than Toluca. However, the big difference is that while Toluca has been consistent (consistently good that is), Club America has not. America looked good against weaker teams like Jaguares and Queretaro, but when they faced their first true test of the season, Tijuana, Club America was unable to play well enough to win. Now, they will face a formidable opponent in Toluca, and it doesn't look like they have what it takes to pass the test.
Prediction: Toluca is simply too hot to handle at the moment, they are off to an amazing start and will prove to be nearly unbeatable at home. However, Herrera will rally his players, and this week's media circus might just have been a ploy to motivate his guys to play up to what is expected of one of Mexico's biggest teams. I expect a tight and contested match, where Toluca will play as a team, and Club America will try to rely more on individual prowess. Both teams will play each other to a draw. The score will be Toluca 1 – America 1. 
Television: The Toluca vs America Apertura 2012 match will be shown on Univision this Sunday, September 2 at 1:00 PM Eastern.