A resurgent Monterrey will host Atlas, who is debuting a new coach, at the Estadio Tecnologico on Saturday, September 1, 2012 at 8:00 PM EDT.  Monterrey is coming into this game on the heels of back-to-back wins, one   in the Liga MX last week, and one in the CONCACAF Champions League. Atlas is coming off a defeat against Atlante, which led to the release of Juan Carlos Chavez, and the start of a new coach, Tomas Boy. Monterrey is definitely the favorite in this match, and should be able to get three points tonight.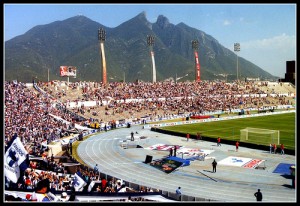 These past seven days have been excellent for Monterrey's Chupete Suazo. Right after announcing that he would leave Monterrey at the end of the year, he scored two fantastic goals in the 2-1 away win against Chivas. Suazo followed up this excellent performance by scoring the game-winning goal against Municipal of Guatemala in the CONCACAF Champions League (1-0 away win for Monterrey). Suazo is on a hot streak, and he will be looking to add to his goal tally in today's match against Atlas.
Monterrey appears to be regaining the form that led them to dispute last season's final against Santos. Utilizing a solid defensive foundation, with the addition of incredible strikers like Suazo and De Nigris, Monterrey can be expected gain points in the following weeks, and move up the standings. Yes, they had a slow start, with just two wins in six matches, but I can guarantee that their play will improve week by week, and they will be champion contenders once again.
Atlas released head coach Juan Carlos Chavez following a 1-0 loss against Atlante. Chavez led Atlas to four draws, one loss and just one victory, scoring six goals and allowing only four. This Atlas team was very similar to last season's team, good defense, low-scoring, and seemingly unable to do anything other than get one point at a time. However, the results weren't terrible, specially for a team that aspires to avoid relegation; supposedly, Chavez left Atlas due to death threats. Whatever really happened, Tomas Boy is the new head coach, and he will be looking to increase the offensive firepower of Atlas. He will have a first tough test at Monterrey.
Prediction: Monterrey, led by Chupete Suazo, had a great week, earning two important wins. Monterrey is regaining its form and is heading up the standings. Atlas just got a new coach and will be struggling to adapt to changes in the new tactical scheme and playing style. Monterrey will take advantage of this and get the three points at home.  Monterrey wins this one easily, 2-0.
Television: The Monterrey vs Atlas Apertura 2012 match will be shown on Univision Deportes this Saturday, September 1 at 8:00 PM Eastern.