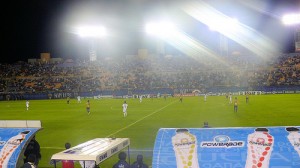 San Luis will host a battered Leon at  the Estadio Alfonso Lastras on Saturday, September 1, 2012 at 10:00 PM EDT. San Luis replaced Trejo as their head coach after last week's defeat at the hands of Puebla; Alex Aguinaga has taken over as interim head coach. Last week, Leon had its first defeat at home, when it was humbled by a Morelia squad that took the game to them and soundly defeated Leon 3-1. This San Luis vs Leon match will see a struggling San Luis club try to overcome a Leon side that had its first thumping of the season.
Under Trejo's management, San Luis achieved only two points out of eighteen possible, as the result of four losses and two draws: they were terrible. Alex Aguinaga is coming in as an interim head coach for two matches, with a chance to become the official head coach if he has successful results. Aguinaga already won his first match, a 2-1 victory over Jaguares in the Copa MX this past Tuesday. He will definitely be looking for a good result against Leon, hoping to gain the head coach position permanently. I believe that unless San Luis is blown out of the water, Aguinaga will remain as the head coach of San Luis.
Leon was thoroughly defeated by Morelia at home in Week 6 of the Liga MX; it was the first game in which Leon played without head coach Matosas on the bench, who was serving a suspension for a red card. This loss made it evident of how important Matosas is for the functioning of Leon, a squad that succeeds due to his leadership rather than his tactical schemes. Well, Leon fans need not worry, Matosas will be back on the bench. However, does Leon have what it takes to get an away victory at San Luis?
Prediction: Even though San Luis only has two points, and can be considered one of the worst teams in the Liga MX, they still displayed sparks of good soccer during the first four matches of the Liga MX (they were awful in week 5 and 6). I believe Aguinaga will revitalize this team, and his desire to remain as San Luis' head coach will see him push his team forward looking for a victory. Matosas will lead Leon like he usually does, with fire in his belly and looking for a victory. I expect this will be a game with many offensive plays and plenty of scoring opportunities. In the end, the match will end in a draw, and San Luis will still be looking for its first win. The score will be San Luis 2 – Leon 2.
Television: The San Luis vs Leon match will be shown on Univision Deportes this Saturday, September at 10:00 PM Eastern.