Morelia, a team that it is still undefeated, will host Pumas at Estadio Morelos on Friday, August 31st at 7:30pm PST.
Pumas at an uncertain path
Pumas' administration released Joaquin Del Olmo two days after being defeated by Cruz Azul. They stated that Del Olmo's style did not suit the team, and that they expected more from him. At the moment, Antonio Torres Servin is coaching the team, but Vice-president Alberto Garcia Aspe is looking for someone capable of handling the team to take over as the head coach.
At the moment, Pumas is lost with no specific playing style, and they need someone who is experienced enough and that is willing to work with veterans and young players to give balance and also bring a good show to the viewers.
Morelia still undefeated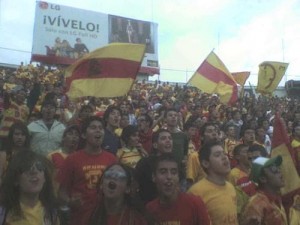 Morelia has 3 wins and 3 draws and it's situated at the third spot in the standings. Romano's team seems solid even after the team let go of players like Gerardo Lugo, Rafael Marquez Lugo and Adrian Aldrete, just to mention some, during the off-season  Romano took the base team that Tomas Boy left and worked around it to keep it solid, something that can be seen by the results this team is bringing.
Morelia is expecting a Pumas with no identity, and this will be on their side, plus being at home will give them the extra support to go after the three points.
Prediction: This is an easy win for Morelia who is on a roll. Pumas, although it will be fighting for a good result, has little chance of winning. It will be up to players like Villa, Veron and Bravo to bring torque to the team and lift the spirits within. For Morelia, it is just a matter of keep doing what they have been doing so far in the Liga MX. Joao Rojas and Miguel Sabah will be key players on Morelia's side to move to the front and finish off the attacking plays. Prediction is 2-1 in favor of Morelia.
Television: The Morelia vs Pumas match will be shown this Friday, August 31st at 7:30 PM Pacific on Fox Deportes.