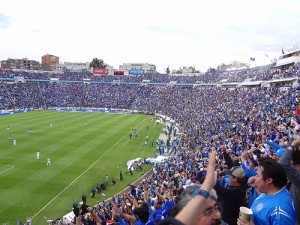 Cruz Azul will host a win-hungry Pachuca at  the Estadio Azul on Saturday, September 1, 2012 at 6:00 PM EDT. Cruz Azul is coming into the match undefeated and having just beaten their crosstown rivals, Pumas. Pachuca, on the other hand, has won just one match so far, and is located near the bottom of the standings with just six points so far. Cruz Azul has an excellent chance to maintain their undefeated streak and push up the Liga MX standings.
Last week, Mariano Pavone's goal led Cruz Azul to a 1-0 victory over a Pumas team that decided to release head coach Del Olmo right after the match. Through six matches so far, Cruz Azul has only allowed two goals, placing them as the best defense in the Liga MX. However, they have only scored five goals, and only have one match where they scored more than one goal. Guilermo Vazquez has re-engineered this team and turned it into a formidable defensive-minded club that can grind out the wins with sparks of offensive brilliance. Cruz Azul is one of the best teams in the Liga MX (currently ranked 3rd in our power rankings), and is capable of defeating most teams at home.
Hugo Sanchez' Pachuca is in a very different situation: they only have one win in six matches, have only scored three goals (they didn't score in four matches), but do have a decent defense that has allowed six goals. Pachuca's great off-season additions don't seem to have had any effect on the teams performance, in fact, they are in worse shape than they were last season. I personally think that the issue here is Hugo Sanchez, Pachuca hasn't really demonstrated a specific style of play in any of its matches. They struggle moving the ball forward through their lines, each unit almost acting like a separate entity instead of a team. Hugo Sanchez will have a very tough challenge at Estadio Azul, and a bad result could very well lead to him becoming the fifth Liga MX coach to lose his job this Apertura 2012.
Prediction: Cruz Azul has been playing consistently well throughout the season, playing a defensive-minded game that gets the points. Even though they don't play a flashy style of soccer, they can go toe-to-toe with any of the top teams in the Liga MX. Pachuca has been mediocre at best (definitely not a top team), still unable to define its playing style, and it can't be teamwork issue, after six matches the players should know each other well by now. I expect Cruz Azul will halt the ineffective Pachuca offense and win the match. The score will be Cruz Azul 2 – Pachuca 0. Note: I think Hugo Sanchez will be released (i.e. fired) after this match.
Television: The Cruz Azul vs Pachuca Apertura 2012 match will be shown on ESPN Deportes this Saturday, September 1 at 6:00 PM Eastern.