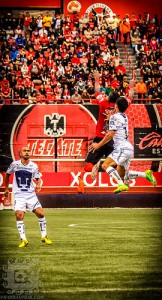 Please click here to view the article for the September 19, 2012 match between Xolos and Pumas.
UNAM Pumas will host Group 6 leaders of the Copa MX, Xolos of Tijuana, Tuesday August 28, 2012 (10:00 PM EST) at the Estadio Universitario. Both teams have used this cup to develop its youth players and to keep bench players in form. Although no top players are used, this does not mean they do not take the Copa MX seriously, as Xolos is currently in first place of the group with eight points, and Pumas being last with five points could have influenced in the departure of their coach Joaquin Del Olmo. The match between Pumas and Xolos marks the best match this round in the mexican cup.
Pumas recently fired Joaquim Del Olmo due to poor results and poor playmaking, meaning the game against Tijuana will be lead by an interim coach. Much is mentioned about Mario Carrillo taking the vacant coaching position, but if this does happen it will not be until this weekend during Week 7 of the Liga MX. Nonetheless, Pumas comes into this game with a low morale, and without a coach, it can be smart to mention that there will be poor concentration. Fortunately for the university team, they have a good youth system and therefore have the upperhand in quality of players.
Tijuana is playing great in the Liga MX by recently beating America 1-0 and taking the number slot in the regular standings. Although its bench, youth system, and player depth is not great due to young age of the team, Xolos has still been capable of obtaining eight points in Group 6. This team is well coached in all aspects, and although the quality of the reserves are well below those of the starters, this team still can compete for great things in the Copa MX. The game against Pumas will be a good opportunity for Ecuadorian signing, Fidel 'Neymar' Martinez to finally get to form, but a victory at Pumas' turf will not be an easy task.
Prediction: This will be an entertaining match to watch between two first division teams. While Xolos does not have much reserve player talent, they are still greatly coached. On the other hand, the young Pumas reserve players know that playing well in the Copa MX means they could be called up to the first team, especially while a new coach is on its way. A fun match to watch, the score will be 2-2.
Television: The game will be shown on Galavision, Tuesday, August 28, at 10:00 PM EST.