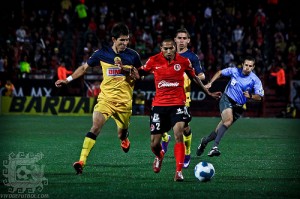 Click here for the Xolos vs America February 9, 2013 tv info, preview and prediction.
Club America and Xolos of Tijuana will face off at the Estadio Azteca on Saturday, August 25, 2012 at 18:00 PM EST. America began the season on a high note by being tied for 4th place of the regular standings with nine points. The team from 'coapa' still has places to improve, its defense among others, but this is a team which is tied for the best offense with eleven goals. Club Tijuana has impressed many thus far this season by being tied for second place with ten points. A team that lacks threatful forwards, Xolos has managed to win three games by having an efficient defense and a better midfield. America vs Xolos is the match of the week because although Xolos is not a 'big-team', these two squads are fighting for the top positions, and based on quality, this match will beat a Monterrey vs Chivas.
Club America had high hopes prior to the beginning of the Apertura 2012 of the Liga MX, and after five weeks of good soccer, those hopes are higher than ever. America has nine points, six away from the first place Toluca which has fifteen, but the fact that they are playing wonderfully up-top shows that their good form will follow. This offense, lead by Ecuadorian striker Christian Benitez, has scored eleven goals, even without siging any top forward this offseason. Moreover, within the last seven games (Week 5 of Liga MX and Copa MX), America has scored a total of ten goals. Against Xolos they attempt to keep the hot-streak living, but this will be a difficult match against Tijuana who has one of the league's most balanced defense and midfield.
Click here for the Xolos vs America February 9, 2013 tv info, preview and prediction.
Tijuana has surprised analysts and fans alike because after an offseason which saw stars Egidio Arevalo and Pepe Sand leave the team, Xolos had no strong players tp replace them. Actually, those gaps are still visible, but players like Fernando Arce, and defender Pablo Aguilar have taken the leader roles and lead the squad in goals. Xolos has three victories and seven goals, but in the two games they have played away from home they have only one tie and one goal. In other words, they have to improve on the road and the game against America will be a very difficult task. For them to come out with the three points (even with one point), Tijuana will need to play a perfect defensive game, which nonetheless will cause them to be conservative and poor on the attack.
Prediction: Both teams have played well most of the season, and while Xolos has one more point, America has the talent to win any match it plays. America is currently on a goal-scoring streak, while Xolos has played well-enough to win three matches. This will be an interesting match to watch, and due to the high quality of play between both squads, this is the game of the week. Xolos does not have enough depth to play a good, both defensively and offensively, but also, streaks end. Therefore, this will be a good match in which America will attack all game but Xolos will play a defensive scheme which will end America's strong-scoring streak. The score will be 1-1.
Television: The Club America vs Xolos match will be shown on Univision this Saturday, August 25 at 6:00 PM Eastern.
Click here for the Xolos vs America February 9, 2013 tv info, preview and prediction.