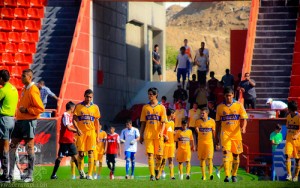 Tigres will host Toluca at Estadio Universitario on Saturday, August 25, 2012 at 8:00 PM Eastern. After winning its first two matches, Tigres has played three matches in a row without achieving a victory. On the other side of the pitch, Toluca is the undisputed leader of the Liga MX, having won all five of their matches so far. Tigres will have a very tough time breaking their non-winning streak against the red-hot Toluca.
Last week Tigres visited Estadio Caliente and were soundly defeated 1-2 by a superior Xolos squad. In the previous two weeks Tigres drew with Queretaro and Atlas; Tigres has not been displaying the good defense Tuca had previously achieved with his team. In the last two matches, Tigres has allowed four goals (six if you include the CCL match), and its offense has essentially been ineffective for large periods in the match. If Tigres wants to earn the three points against Toluca, it needs to shore up its defense first.
Toluca has just been outstanding, winning five out of five matches, scoring ten goals, and only allowing four: perfection. Last week against Pachuca, Toluca dominated most of the match, and scored a last minute goal to take the win. Simply put, Toluca has been doing an excellent job in all of its matches: good defense, explosive offense, and able to control the ball. If Toluca keeps playing they way they have, they are likely to earn the three points away against Tigres.
Prediction: Tigres is reeling after three games without finding a win; in fact, Xolos was their first real test, and they were clearly over-matched. Toluca, of course, has been perfect so far, and the only thing going against them is that all streaks eventually come to an end. The question is, will it end against Tigres, or will Toluca achieve a sixth straight victory? I believe that Tigres, playing at home, is simply too difficult of an opponent to defeat, and a draw is the most likely result. The score will be Tigres 1 – Toluca 1.
Television:  The Tigres vs Toluca match will be shown on Univision Deportes this Saturday August 25 at 8:00 PM Eastern.