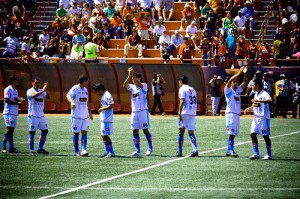 On Wednesday, August 22nd at 5:00 PM PST at Estadio Carlos Iturralde, Merida will host Pumas for their match number four in the Copa MX.
Pumas come from winning the first duel against Merida at Estadio Olimpico with a score of 1-0, with a goal from Eduardo Herrera. Pumas in Liga MX defeated Santos on Saturday and it seems like Del Olmo might have a new plan.
Apparently Luis Garcia will be in the starting line up as well as Jaime Lozano, whom only had couple of minutes on Saturday's game. This is good news since both elements have experience and will be a great addition to the Copa MX match.
Merida lost their last game versus Pumas and their game in Ascenso MX against Tecos. The Yucatan team is in need of points for the Copa MX, as their current standing in the group is last with only one point.
Prediction: This game will see an offensive Merida squad, as they are in dire need of points.. Pumas will be playing the ball on the ground and trying to win, as they have upcoming matches with Xolos; Pumas will not want to lose the three points. This will not be a very fast game. My guess is a 1-0 win by Pumas
Television: The match will be televised at 8:00 PM EST this Wednesday, August 22nd on Univision Deportes.