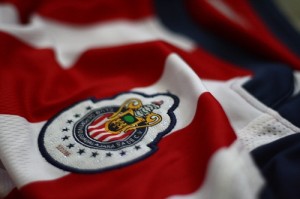 San Luis and Chivas both have just two points earned out of four matches so far, and both will be looking for their first win at Estadio Alfonso Lastras on Saturday, August 18, 2012 at 10:00 PM EST. Even though San Luis only has two points, they have actually not been that bad, and have played close games in all four of their matches. Chivas on the other hand has not played so great, still waiting to find their playing style. Van't Schip will struggle to get his Chivas squad to beat this fierce San Luis team.
Last week playing at home against Monterrey, San Luis was able to get a draw against an always difficult opponent. San Luis has played tough in all their games, having the best chance of earning its first three points against Morelia in week 3, only to draw due to two late goals. In essence, San Luis is a team that plays well, but is unable to finish off the games due to loss of concentration. If they are able to apply themselves throughout the entire 90 minutes, San Luis could very well come out with a win.
Chivas also has two points, but their level of play has been far below what San Luis has shown so far. Chivas can't seem to have a consistent level of play throughout an entire half, much less a full ninety minutes. Furthermore, they complicate matters by lacking concentration on defense at key moments of the match. However, there is light at the end of the tunnel: Fabian, Enriquez and Araujo are returning to Chivas after completing their gold medal run with Mexico. They are likely to play against San Luis, although their contribution to Chivas is doubtful, as they still need to adjust to Van't Schip's style of play.
Prediction: San Luis is a team who plays hard, and can stand toe-to-toe to any team in the Liga MX, although their concentration mishaps has caused them many points. Chivas has not been playing well, but has three key players returning to the squad, players that should make a difference (whether now or later down the road is the question). I believe that the Olympic players won't be fully adjusted to playing with Chivas again, and will thus not add as much value as necessary for a win. The game will end in a draw, with both teams disappointed with another week without a win. The score will be San Luis 1 – Chivas 1.
Television:  The San Luis vs Chivas match will be shown on Univision Deportes at 10:00 PM EST on Saturday, August 18th.